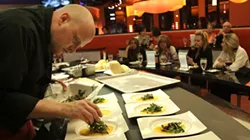 Zazios
34977 Woodward Ave., Birmingham
248-530-6400
As this is the last review I will be doing for a while, I thought it might be fun to fold up my napkin with an uncharacteristic big splurge. (I hope I have provided useful information over the years and that I have been fair to the hardworking people in the restaurant business.)
Zazios (a made-up name) opened two months ago on the corner of Woodward and Maple, in the dramatic new building that also houses the Greenleaf Hospitality Group, a Kalamazoo-based company that launched the original Zazios six years ago. The 10,000-square-foot Birmingham spin-off features a glitzy, swirling interior in fuchsia, lime green, orange and blue, with multi-colored tiled floors and pillars, large windows looking out over Woodward Avenue, and a thermoelectric wine cooler that lines the wall on the long walk from the entrance on Maple to the dining areas that seat almost 200. On the way, you'll pass the Z bar, with more than 20 wines sold by the glass and the bustling open kitchen that contains pasta and gelato makers and a wood-burning stove among its cooking implements. When possible, executive chef Matt Schellig, who previously worked at the Rattlesnake Club and Shiraz, uses local produce and meats, as, for example, is the case with the fresh lamb he obtains from a farm in the Thumb.
Every night, Schellig, a graduate of the Culinary Institute of America, performs in front of as many as 24 patrons at his Chef's Table. His private kitchen-amphitheatre features five cameras and six flat-screens so there is never a problem seeing what is going on. Or hearing, since he is on a mic and eager to respond to questions and comments from the foodies before, during, and after he is assembling any one of the five courses that constitute his dinners. Depending on his improvised "lessons" and the interactive audience, these sessions take from 90 minutes to more than 2 hours. Ebullient, but not flamboyant (like some cable-network divas), Schellig not only knows a lot about cooking but also salts his comments with history and chemistry.
The default screen is a colorful map of Italy. Each month, he develops a menu that reflects the cuisine of one Italian region. In August it was Sicily, the past month Calabria, and this month it is the north, with a winter-squash (zucca) theme. The five-course banquet, with Schellig's floor show, costs $65; an optional Italian wine package of five different three-ounce pours will set you back an additional $30. Considering tax and a generous tip for a highly professional server like John Gordon, the Chef's Table at Zazios makes for an expensive evening indeed.
If you do plan to take in one of these culinary extravaganzas, be certain to look at the menu online, because one or another course may not suit your tastes. For example, on one occasion, the advertised "spicy" Andouille-style Calabresian sausage was just too hot for my dining partner. More importantly, you can inform Schellig of any dietary concerns and he will tailor your meal accordingly.
We were there for a night in Calabria, a poor, mountainous province north of Sicily, the toe in the boot. The several types of first-rate bread that come with are provided by Rochester's artisan bakery Give Thanks; the house-made spreads are a splendid tapenade and an intriguing Italian take on hummus.
All the portions are on the smaller side. For example, our first course, guazzeto, centered around three perfectly steamed mussels, roasted garlic, parsley and bruschetta, which Schellig made a point of noting that he seasoned on both sides. The night we were there, he tossed in one half-dollar sized, one-inch-thick sautéed scallop that may have been the best scallop we have ever had.
The n'duja, created essentially from scratch before our eyes, was that Calabrese sausage somewhat mellowed out by the accompanying creamy herbed polenta, which he traced back to Rome, and mandolin-sliced grilled zucchini.
The third course, orecchiette, tiny, ear-shaped pasta tidbits, were the base for a dish that included sautéed porcini mushrooms, oregano, pecorino romano cheese and caramelized onions. Schellig presented a brief riff on caramelization and sugar as he constructed the dish, which was sweetened by the onions, and explained his approach to seasoning in general, and how and when to oil the pasta. He also reported that he washes his hands an average of 75 times a day, so as not to contaminate a creation with traces of seasoning from a previous one.
For the main course, lamb three ways, the chef wrapped gently seasoned chopped lamb meat around a thin slice of eggplant, prepared a lamb ragout with heirloom tomatoes, and sautéed to medium rare an exceedingly tender spring lamb chop garnished with bitter rapini.
By the time he reached dessert, we were thankful for the relatively small portions, since it would have been a shame to take a pass on a luscious crostata, an almond-ricotta tart over which were layered baked fig sections, blackberry gelato and slender candied orange strips.
Zazios' regular, reasonably priced menu is long and looks interesting, especially the option of selecting half orders of their "modern" Italian fare. The well-selected wine list is interesting as well, but for this review I concentrated on the restaurant's celebrated specialty.
And it deserves to be celebrated. Matt Schellig is a charmer who can talk and cook at the same time. His scholarly introduction to the regional Italian kitchen is a feast for the mind and the palate, albeit at a special-occasion price.