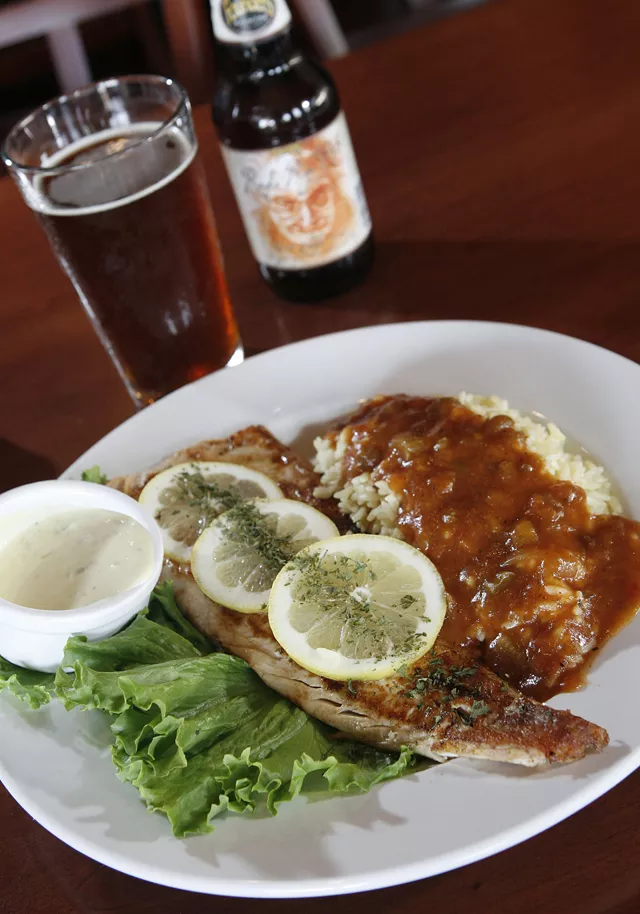 Square Lake Diner
6024 Rochester Rd., Troy
248-720-2000
Handicap accessible
Prices: $5-$15
From St. Clair Shores to Canton, Trenton to Port Huron, southeast Michigan is replete with family diners — inexpensive joints with big vinyl booths and seemingly bigger portions. Setting their sights a bit higher are the folks behind Troy's newest eatery, the Square Lake Diner.
Situated in the middle of a strip mall at the northeast corner of Rochester and Square Lake roads, it might be easy to drive right by the sign, which is camouflaged by the suburban landscape. But inside, things are a bit different.
Absent upon entering are virtually all the stereotypical trappings of diner life: You won't see apron-wearing waitresses who call you "hon'," an open prep area spraying grease and loud kitchen slang into the dining room, and decorations that have been in place since the '70s. Rather, Square Lake Diner features an elegant, dimly lit interior with a modest bar in the back.
Perhaps most importantly, that bar is fully stocked.
Indeed, cola isn't the most interesting thing for quaffing here. They feature a full beverage list with beer, wine and spirits. In fact, many restaurants with far greater ambitions don't boast as good a beer list as Square Lake, which carries not just a wide selection of pale lagers but also Belgian classics such as Saison Dupont and Rochefort 6, as well as a nice array of several U.S.-made microbrews.
Despite the elegant paint job and robust drinks list, Square Lake Diner is ultimately, of course, what the name implies — a diner. The overwhelmingly long menu features many of the Greek-inspired, Coney-style dishes one would expect from any such restaurant: gyros with chips, a hani pita, Greek salads, and saganaki among them.
But the food menu also aims to be better than that of the average diner, and it sometimes succeeds. A few varieties of broiled seafood, such as salmon and whitefish, are available for $9.99, and they also serve a few stir-fry options and several cuts of beef, including a $13.49 12-ounce strip steak.
Further, fans of fried fish will almost certainly be most pleased with the perch for $9.99, which remains moist and flaky through its trip into the deep fryer. A few of the other fried seafood dishes are a bit dry and heavily battered — armored, really — to their detriment, namely the fried fish and fried scallops.
Italian cuisine plays a surprisingly prominent role here. Among the more flavorful options is a large plate of chicken Parmigiana, generously covered in cheese and sauce. While the chicken itself is a bit dry, as is the case at many diners, it's robustly seasoned and priced very reasonably at $8.99. Other Italian dishes include fettuccini and ravioli.
With each of the steaks, seafood and other entrées, expect the traditional choice of soup, salad or cole slaw as well as a heaping basket of bread.
Salads come with a choice of more than a half-dozen dressings, including a vinaigrette and a balsamic and oil, and the soups are on rotation, with a creamy, chowder-like broccoli and cheddar among the recent offerings. Despite any impressions that the elevated decor and drinks list may provide, the bread basket also reflects the diner stereotype, filled with oyster crackers, prepackaged breadsticks and the like.
Sandwiches play a prominent role, with more than two-dozen wraps, burgers, Reubens, clubs and melts on the menu. A simple burger or grilled cheese might be your style, but in an effort to elevate their cuisine, the restaurant offers a few more interesting options as well, including the Birmingham burger ($7.29) with caramelized onions and blue cheese.
Value-conscious diners will be pleased to learn that Square Lake Diner is aggressive in pricing daily specials, with several of the standard menu options scrawled out on a white board at reduced prices, waiting at the entrance to greet patrons.
And like most family-style establishments, Square Lake Diner offers a lengthy list of options for early birds, hearty fare spanning the breakfast spectrum. Try a couple of eggs with toast at only $2.99, or a big Irish Omelet stuffed with bacon, onion and potatoes, covered in cheese, for $6.99. If starches are of more interest, they offer homemade pancakes, with or without berries, and some sinful cinnamon raisin French toast (starting at $4.59).
Brightening any dreary morning is their selection of breakfast cocktails — namely Mimosas and Bloody Marys for $8 and $7, respectively. 
During these first few weeks of conducting business, the Square Lake Diner hasn't offered any dessert beyond vanilla ice cream with a few simple toppings, but according to some of the staff, the plan is to eventually offer other options, including pie and cheesecake.
Taken as a whole, Square Lake Diner is something of a contradiction. It serves perfectly acceptable, cheap food at equally acceptable, cheap prices. But it also features elegant wood trim — and a wine list where a number of the bottles cost more than $50, and where the big, sweet, oaky wines don't necessarily pair with the rich, inexpensive fare. 
Yet whatever the paradoxical formula may be at Square Lake, it so perfectly solves the lament of many a weary diner in search of a quality beer and a quick meal.
Square Lake Diner is open 7 a.m.-9 p.m. daily.
Evan Hansen dines for Metro Times. Send comments to [email protected]