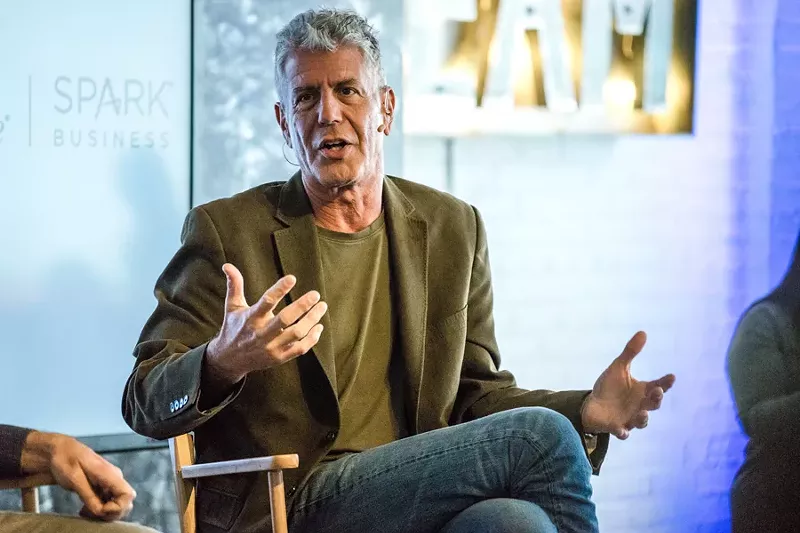 For Rock City Eatery Chef Nikita Sanches, the early death of Anthony Bourdain was a "tough one" that left him devastated.
"He helped me become the chef/person I am now," Sanches says. "Through his show, he exposed me to other cultures that I would research, and I looked into things that he ate on his trips all across the world. Those were dishes that I would never come across living here."
Sanches says it was a dream of his to cook for and eat with Bourdain, but instead of scrapping the idea, Sanches is preparing the meal that he would've made for Bourdain as a tribute to one of his heroes.
The pop-up seven course meal at Hazel Park's Frame is packed with Bourdain-esque dishes like bone marrow fritter, foie gras deviled duck, and ant and sesame encrusted tuna.
"These are literally items that Anthony Bourdain loved, and they are the items that I learned about from him and now love as well," Sanches says. "If it wasn't for him, I don't think I ever would've become an adventurous eater, because he made it seem appealing and delicious, and he helped you get past the 'oh this is gross' zone."
Sanches prepared some of the dishes at Rock City's old Hamtramck location, but he phased them out once the restaurant moved to Midtown and started catering to a crowd that's less likely to order ants or tongue. Thus, the dinner is also an opportunity for Sanches to once again tap into his more creative side.
"If I put something like this on the menu, it's not going to sell and people are going to say, 'Oh, this is weird,' so this lets me get these creative ideas out again," Sanches says.
The seven courses are as follows:
1. Corn bisque, mascarpone, coconut, tarragon, and seared bay scallops.
2. Foie gras deviled duck egg, duck crispy skin, and shaved truffle.
3. Ant and sesame encrusted tuna, and white shoyu marinated cucumber.
4. Bone marrow fritter, uni, tomato sauce, and parsley salad.
5. Fusilli Calabresi pasta, bottarga, artichoke, lemon, evoo, and parsley.
6. Mole-braised beef tongue, roasted vegetables, avocado purée, lime crema, and egg yolk.
7. Frozen lemon ricotta, honey, and toasted pistachios.
Frame's resident wine director and sommelier, Bryan Lamorena, is planning a wine pairing.
The dinners are planned for Sunday, June 9 at 4 p.m. and 7 p.m. Tickets are $50 per person plus a service fee, and can be found
here
.
Copies of the soon-to-be-released Harper Collins book,
Anthony Bourdain Remembered
, which collects tributes and photographs honoring Bourdain, were compiled by CNN and are available for pre-order on the Frame
website
for those attending the dinner.
A portion of the proceeds will go to Michigan's Association for Suicide Prevention, whose mission is to reduce the number of suicides and attempts in Michigan, support those left behind, and reduce the stigma associated with mental illness and suicide.
So many restaurants, so little time. Find out the latest Detroit dining news with our weekly food newsletter delivered every Friday morning.