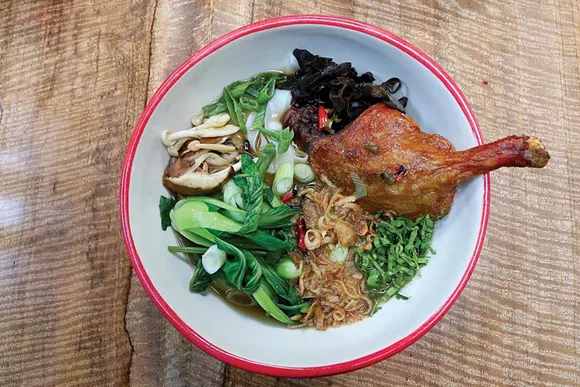 Been meaning to check out that hip, new restaurant but haven't found the right moment in your schedule?
Fall in Detroit is prime time for catching up, thanks to a number tasting events at dozens of bars and restaurants throughout the region.
See also:
Here's your roundup for fun fall food and drink events
Among them is Dine Drink Detroit, in its fourth year, which is kicking off on Monday. This year more than 35 food and drink spots are participating, including several newcomers like Katoi, Parks & Rec, Rusted Crow Detroit, Downtown Louie's Lounge, and more.
This year, an additional week has been added to give diners a chance to check out as many spots as possible. Guests of participating restaurants can dine for as low as $15 from menus specially prepared for the festivities. Click
here
for more info on where to go.
To get things started, Dine Drink Detroit will host a launch party 5 p.m.-11 p.m., Monday, Oct. 3, at West Riverfront Park on the Detroit Riverfront (1801 W. Jefferson). On hand, a bunch of food trucks, like Drunken Rooster, Big Boy, etc., cocktails, plus a lineup of live DJs (DJ Godfather, DJ Chrome, DJ Freddy, others).
Tickets
for the launch party start at $15 for general admission or $50 for VIP access.
As in years past, proceeds from the kickoff bash will go to the Detroit River Front Conservancy.