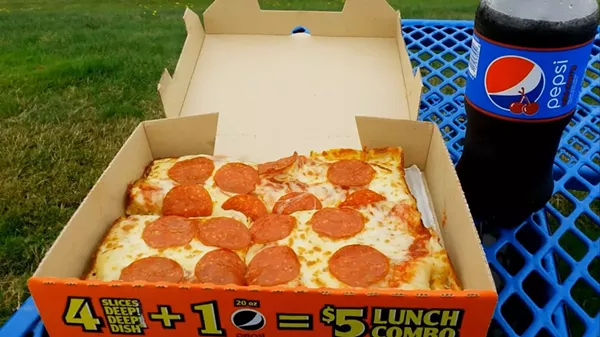 Little Caesars has some explaining to after a video that went viral appears to bust one of its stores for serving DiGiorno.
On Saturday, Twitter user
@vinandwesson posted the evidence with a caption of "this can't be happening right in front of me."
The video starts with a shot of Little Caesars' menu, then pans over to a stack of DiGiorno frozen pizza boxes near the pizza oven.
this can't be happening right in front of me pic.twitter.com/9R7jwuUbB6

— vin🏁 (@vinandwesson) October 6, 2018
After a couple days of the internet laughing and the video being retweeted 45,000 times, Little Caesars' Twitter account jumped in with a defense: "Apparently, this store has a trade-in program."
To which DiGiorno appropriately replied, "Two days to come up with that? Really?"
Hilarious, but, seriously, why is there a stack of DiGiorno pizzas in a Little Caesars kitchen? The Detroit-based pizza chain noted on Twitter that it was investigating, then came up with a rather elaborate excuse. It told
People
that the location is actually in a K-Mart.
"No DiGiorno pizzas were baked or served at this Little Caesars location," they said in a statement. "On that day, K-Mart received a few complaints from customers about having purchased expired DiGiorno pizzas from that location, and because it was so close to closing time, the K-Mart manager directed his employee to temporarily store them in a cooler adjacent to the Little Caesars location for disposal in the morning."
Uh-huh. No matter what the truth is, it's irrelevant to
us,
because we're going to
Loui's
.
So many restaurants, so little time. Find out the latest Detroit dining news with our weekly food newsletter delivered every Friday morning.