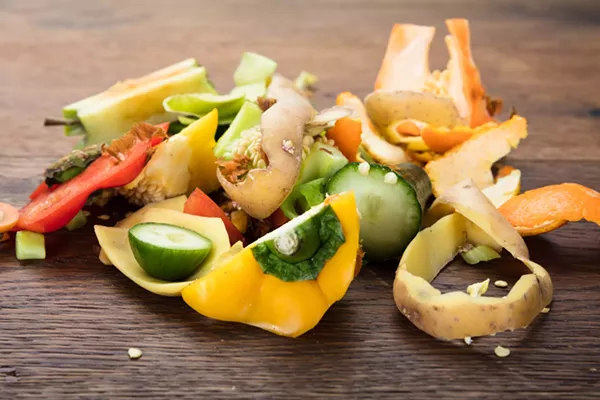 Later this month, some of Detroit's favorite chefs like Selden Standard's Andy Hollyday, Mabel Gray's James Rigato, and Ederique Goudia from the soon-to-open Gabriel Hall will get together at the Eastern Market and prepare a dinner.
It will undoubtedly be delicious, but this one will be different from what's on their respective menus, because it will also be made from food waste.
The chefs are preparing a free communal dinner out of food waste for 5,000 people, and the meal is the centerpiece of a daylong event called Make Food Not Waste — a community feast. The Sept. 30 event is designed to raise awareness about food waste and inspire people to waste less.
Though the chefs will be given many of the same ingredients to work with, each are developing their own creations with their own flair. So far, the chef line up also includes Lady of The House's Kate Williams; Hell's Kitchen contestant and The Drunken Rooster chef Hassan Musselmani; City Food Community Concepts and Ms. Ruth's Catering's Phil Jones; Russell Street Deli's Ben Hall, who will be signing copies of a new James Beard Foundation cookbook that focuses on food waste; Detroit Guerilla Food's Meiko Krishok; Sitsters On A Roll's Harriette Brown; and Xavier Jaramillo from Spectrum Human Services.
Beyond the meal, the day includes demonstrations, talks, exhibits, and hands-on activities to inform attendees of "simple behaviors that will save them money, change health outcomes, encourage creativity in the kitchen and protect our resources," says Make Food Not Waste organizer Kevin Kay, who works on food waste issues with the Detroit Food Policy Council.
The problem is one that's getting more attention locally and
nationally
, partly because the statistics on food waste in the U.S. are staggering – 40 percent of our food is thrown out, while 14 million children suffer from hunger. Locally, all the wasted food could provide everyone in Detroit with three meals 365 days per year.
"It's just crazy, especially here in Detroit when we have all these people who could use food, and we have it, but we don't get it to them," Kay says.
He also notes that waste costs households money — an estimated $2,000 a year for a family of four.
"It costs our environment even more. Decomposing food in landfills turns into methane, a greenhouse gas that absorbs heat from the sun," Kay says. "Incinerated waste leads to air-related health problems among children and adults, and the overall waste taxes our water, land, transportation, and financial resources.
"Fortunately, individuals can make a big difference by simply doing things like eating leftovers, planning meals, understanding 'best by' and 'use by' dates on labels, repurposing scraps, and composting."
Aside from Make Food Not Waste, Kay and the DFPC are taking the lead on an effort to
develop a program
that facilitates the delivery of food waste from restaurants directly to families' doors. It's modeled after Seattle's Table, which since 1989 has partnered with over 120 local kitchens and county health officials to ensure that extra food is safely distributed to 50 meal programs throughout the city.
Kay says delivering food in Detroit could be "as easy as delivering a pizza," but is going to require new legislation at the state level before it's possible. As it now stands, those who want to distribute food must do so through a middleman like Forgotten Harvest. Liability and logistical issues make it difficult for a restaurant to help out a local family.
California recently
approved legislation
that changed that, and there's some discussion of changing laws at the federal level. In Michigan, DFPC is beginning to have conversations with legislators about changing the law.
"Restaurants have all this extra food and to be able to take it right to [families] — that would be unbelievable," Kay says.
Make Food Not Waste volunteers, sponsors, and partners include Kroger, Skidmore Studio, Eastern Market Corporation, Dart Container Corporation, Cherry Capital Foods, Midtown Composting, Unlimited Recycling, edible WOW, Detroit School of Rock and Pop, and Hungry Harvest.
The event runs from 10 a.m. to 4 p.m. in Eastern Market's shed 5 and will include the presentation of the annual DFPC Food Power Awards at 1 p.m. Check
makefoodnotwaste.com
for more information.
So many restaurants, so little time. Find out the latest Detroit dining news with our weekly food newsletter delivered every Friday morning.