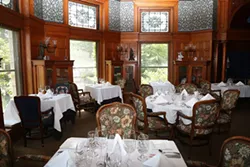 The Whitney is one of Detroit's swankiest and most romantic restaurants. It's the kind of place you go to pop the question or to celebrate when you land your six-figure-salaried dream job.
But, it's probably not the first place you think of when you're making your Memorial Day weekend plans.
The folks at the Whitney want to change that, of course, so they're offering veterans a 25-percent-off discount to all veterans and their accompanying parties during their Sunday brunch this weekend.
The Whitney will also set aside 10 percent of proceeds from the day to host a special luncheon for veterans and their families at the Detroit chapter of Veterans Housing Program Volunteers of America Michigan.
Also, the garden at the Whitney opens for the summer on May 31, but more on that later ...