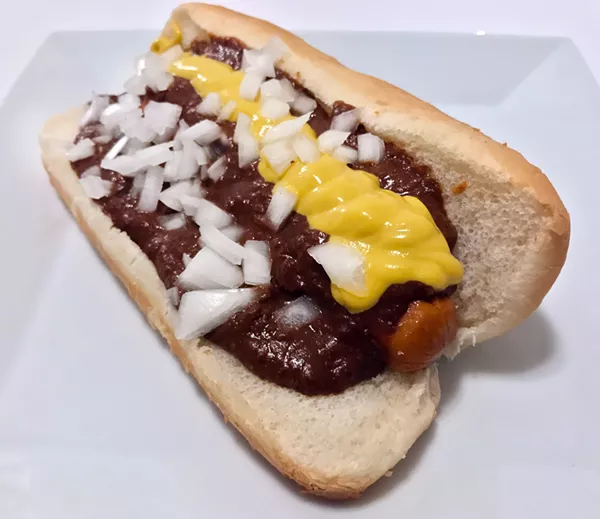 Chili Mustard Onions, Detroit's first vegan coney island, is now planning an April 1 opening in Brush Park.
Chef/co-owner Pete LaCombe, aka "Vegan Chef Pete," says to expect everything one might find at a standard coney island along with some items not traditionally on a coney menu. But all dishes will be meat- and animal-product free.
That means vegan coneys, loose coneys, fries, chili cheese fries, gyros, wraps, tacos, salads, spinach pie, soups, beet balls, soft serve ice cream, desserts, and kombucha. LaCombe says his chili recipe is similar to National's — though slightly thicker and spicier, as it's made with 10 spices and a soy crumble.
CMO will also offer a meatless take on the Big Mac, which LaCombe calls the Big Mock. It comes complete with two non-beef patties, special sauce, lettuce, cheese, pickles, onions on sesame seed buns.
LaCombe is also open to experimenting with new menu items.
"If they want it, then I will create it and add it as a special and see how it goes from there," he tells
Metro Times
.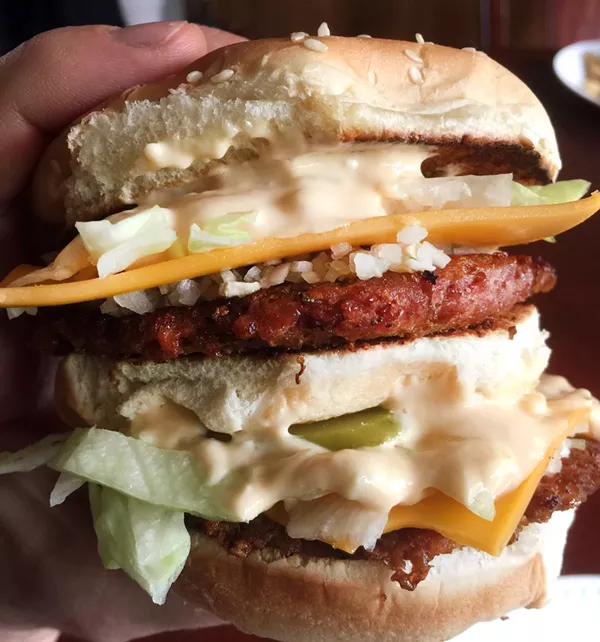 On its beverage menu, CMO will offer a small selection of craft beers, wines, and cocktails. The drink list will likely expand in the summer when it opens its patio.
Many products will be organic and/or non-GMO, and LaCombe installed a reverse-osmosis water system for cooking and for customers.
LaCombe, his wife, and his daughter are opening the shop, which they hoped would be up and running in August. Construction delays pushed that back, but LaCombe has his own crew now in place renovating the space at 3411 Brush St., and he's confident that April 1 is a do-able date.
When it's open, expect a "fun, inviting atmosphere with music, a rock 'n' roll vibe, and absolutely amazing unique food that won't leave you feeling hungry and broke when you leave." LaCombe says his dishes are affordable — most items will be in the $5 to $13 range.
"I have been so fortunate to be involved in every aspect of this restaurant so far, from design and build to decor and menu," LaCombe says. "I feel like it will truly reflect who I am as a person and vegan chef."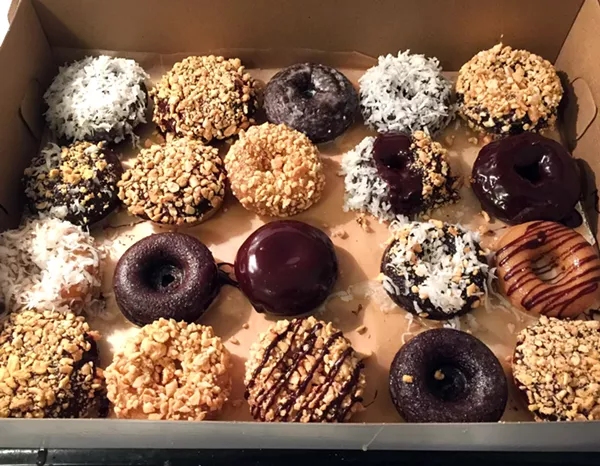 While other restaurants in town have served vegan coney dogs, CMO is the first full vegan coney island restaurant.
LaCombe's only other restaurant experience came at Carl's Chop House when he was a kid. But he says he grew up within walking distance of his Italian and German grandmothers' kitchens and learned to cook with them.
"I fell in love with the food we made, and I've always had a love of cooking," he previously said. "Different experiences in life brought me back to that passion, except now I'm vegan, and my wife and daughter are vegan. I want to make a difference and change world with food - vegan food."