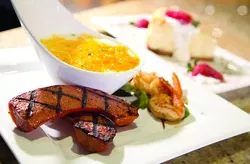 Detroit's Cheesecake Bistro
1045 Brush St., Detroit
313-962-4061
detroitscheesecakebistro.com
Handicap accessible
Entrées: $16-$59
Brunch buffet: $25
Open 11 a.m.-3 p.m. and 5-9 p.m. Tuesday-Thursday, 11 a.m.-3 p.m. and 5-11 p.m. Friday-Saturday. Open for brunch only 11 a.m.-3 p.m. Sunday.
Conversation during brunch
at Detroit Cheesecake Bistro:
Friend (approvingly): "Well, it's definitely one step above Denny's."
Me: "Really? How?"
Friend: "At Denny's you wouldn't get catfish and chicken and roast
beef …"
Me: "Oh, right, if quantity's your main thing, you definitely get your money's worth on the brunch."
Sadly, former Detroit fast-food impresario La-Van Hawkins seems to have learned more from his ownership of Burger King than from his partnership at Sweet Georgia Brown, the shuttered Greektown location that now houses his new outing.
The reviews of Sweet Georgia were always admiring, with raves about the live jazz, the glass-covered stream flowing through the floor, and the "top-drawer" menu with fried lobster, sweet potato bisque with cognac, and provimi veal. The bistro seems to have copied Brown's price range, topping out at $59 an entrée, but little more.
The $25 per person buffet brunch was well-attended on a recent Sunday, but I detected no effort to take the food to a level any higher than that of a neighborhood soul-food joint. Not that Hawkins's staff tried and failed — it seemed clear that no high-aiming was done. Yes, there are cloth napkins and a relatively cool design, plus mimosas, but just about every dish, from scrambled eggs to meatloaf to barbecued chicken to mac-and-cheese to mashed potatoes, was no better than average.
DIY salad consisted of greens, cucumbers, pale tomatoes and dried cherries, plus some shredded bright-orange cheese for sprinkling. In other words, the least one would have to do to make the record that salad was available. Dressings were heavy and thick; I tasted one, and it was of the bottled "Italian" variety. One bowl on the salad bar, I will say, was replete with sweet cornbread croutons, an intriguing distraction.
Fruit salad meant a few strawberries and chunks of pineapple and watermelon, for the diner to assemble herself. Roast beef was indeed carved to your order, but it was dry and lacking in flavor. Sweet corn was not overdone, grits were tasteless, fried potatoes were limp and bland.
My omelet (included in the fixed price, along with pancakes) was slow in coming but competent, chock-full of bacon. The server warned me in advance to request only three ingredients.
Perhaps the bistro comes into its own at lunchtime, when it offers $10-$14 sandwiches and $9-$12 breakfast dishes. The lunch and dinner menus read like Hawkins is trying harder, though adding fried chicken and cornbread croutons to a Caesar salad may not be straining in the right direction. But my limited sample at dinnertime found the chef unable to get the simplest things right.
There's no wine list, just the "house" Cabernet, Merlot, Chardonnay or Riesling. Butter served with the warm and crusty rolls had no flavor. Salmon was topped with a too-thick layer of "housemade maple glaze" that tasted straight from the "hickory-smoked BBQ" bottle. A 12-ounce rib-eye was requested medium-rare but delivered medium, at best, and chewy. Vegetables are too soft and served quite plain; would a little squirt of lemon juice be too much to ask?
The signature dish is crab-and-shrimp cakes. They're OK, sprinkled with bits of red peppers, but not worth the $31 tariff.
The fried lobster tails are carried over from Sweet Georgia Brown, and rack of lamb is an option, both north of $40.
One thing the chef does right is cheesecake, which comes to your table looking clearly house-made — ultra-creamy, so creamy it won't stand up, with a crumb crust. Flavors include red velvet, sweet potato and Oreo. A peach cobbler version has peaches on the bottom. IMO the fact that the chef would name one variety after a mall franchise — Cinnabon — speaks volumes about the Bistro's philosophy. That and the four blobs of Dream Whip.
The irrepressible Hawkins ("I'm back in Detroit because God has me on assignment") was interviewed by B.L.A.C. Detroit about his comeback, after 18 months in federal prison. He said the Bistro would be followed by nine more downtown restaurants, including "white tablecloth soul food," a steakhouse, Italian, pizza, seafood, Chinese-Japanese and "lots of other concepts." 'Nuff said.
Jane Slaughter dines forMetro Times. Send comments to [email protected]