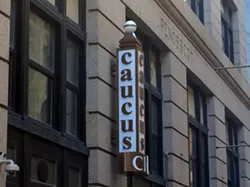 The newest version of the Caucus Club could open this weekend.
The
Free Press
reports that contractor issues and other challenges delayed the project for over a year, but owner George Sboukis only needs to pick up the liquor license from Lansing as soon as it's ready. That's expected to happen by the end of the week.
As
we previously reported
, the Caucus Club was once an iconic Detroit brand that many considered to be among the city's best upscale spots for steak and seafood.
But after decades of remaining in the city's upper echelon of dining, it slowly declined in its final years, which many attribute to mismanagement. Sboukis purchased the gutted restaurant and brand two years ago, redid the interior, and installed a top-of-the-line kitchen.
Expect a menu and vibe that will feel something like the Caucus Club did at its peak, but with a more modern and adventurous look.
The yellow belly Michigan lake perch, a previous Caucus favorite, will return. This version will be lightly floured, sautéed, and served with fresh lemon and caper beurre blanc.
Perhaps the most exciting part of the menu are the dry age selections. The Caucus Club's gleaming new kitchen includes a butcher shop and dry age room with a wall of Himalayan salt, all of which can be viewed from the Penobscot's hallway.
The 24-ounce tomahawk rib eye will be carried on a 12-inch bone and dry aged for 30 to 55 days before it's done on the Caucus's wood-burning grill. Chef Rick Hussey says the porterhouse and t-bones will sit for 14 to 20 days in the dry age room, and Hussey's crew will cut the sirloins and rib eyes itself.
Read more about the menu.