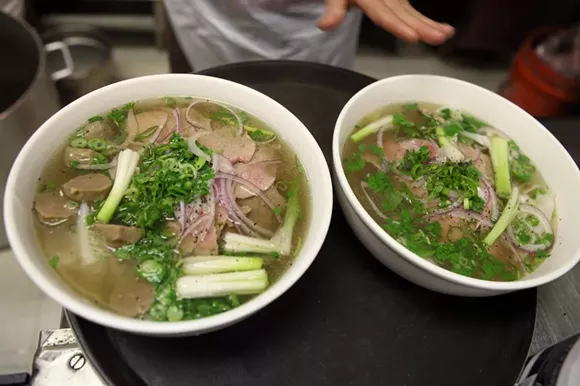 If you're a Westsider/Dearborn resident, you already know and love Pho Lucky. The affordable, authentic purveyor of the Vietnamese staple Pho that sits right in the border township of Redford is a mainstay. And it's growing. First reported by
Eater Detroit last month,
it recently opened an outpost in Southfield and has another location in Novi.
First spotted by us on Instagram, Pho Lucky's latest branch will be in Midtown on Woodward in the former home of Addison Eatery and before that, Atlas Global Bistro. Manager Michael Morehead confirms with us that indeed the spot is slated to open within the next couple of months, possibly by late October.
While the location's former high-end establishments folded, this growing chain could find success here. The menu is quite reasonably-priced, meaningful for an area that is kind of a mashup of gentrified, rehabbed mansions in nearby Brush Park, lower-income residents who occupy subsidized housing and Wayne State students, looking for cheap, but nonetheless tasty eats. It also offers Detroiters one of only a few places in the city proper to enjoy a heaping bowl of cilantro, hoisin and meaty broth-infused rice noodle bowls.