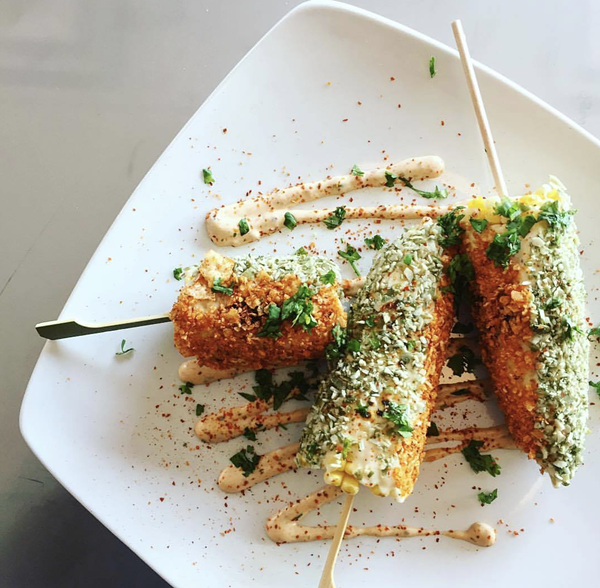 Ann Arbor's newest vegan venture, Detroit Street Filling Station, opens to the public today in Kerrytown.
It's the fourth vegan food operation for co-owners Phillis Engelbert and Joel Panozzo. They debuted The Lunch Room food cart in 2011; opened their first brick and mortar in Kerrytown, The Lunch Room Restaurant & Bar, in 2013; and started The Lunch Room Bakery & Cafe in Huron Towers Apartments in 2015.
The newest addition to the family offers "international vegan cuisine with a seasonally changing menu" along with a full bar that features craft cocktails, mocktails, and an "expertly curated wine and beer selection." For dessert, diners will choose from items in its vegan ice cream parlor.

We can vouch for dishes like the Vietnamese bahn mi (marinated tofu, marinated carrots, cucumbers, daikon, cilantro, mint, basil, green chiles, and spicy mayo on a baguette). The pad thai (rice noodles, tofu, tamarind sauce, shaved cabbage, bean sprouts, lime, peanuts, and cilantro) is another winner, as are the Moroccan charred carrots (za'atar, red chile ginger oil, and parsley).

The vegan ice cream parlor is using Detroit-based Reilly Craft Creamery coconut-milk ice creams and offers homemade waffle cones, banana splits, hot fudge brownie sundaes, cookie sandwiches, pie a la mode, and more. And a bar and ice cream parlor under one roof means a selection boozy sundaes and floats — all vegan, of course.
Engelbert says the menu highlights produce grown on The Lunch Room's farm just outside Belleville called Lunch Room Acres.
The restaurant is opening in the former Argiero's space and its name is derived from the original building, built in 1925 as the Staebler Family Oil Company filling station. The new space is more than twice the size of The Lunch Room in Kerrytown, holds a patio, and will offer table service and allow for reservations.
Meanwhile, the Lunch Room Restaurant & Bar is now The Lunch Room Diner & Canteen. Its menu holds American vegan comfort foods like sandwiches, a rotating selection of housemade burgers, mac and cheese, chili mac, tempeh Ruebens, soups, and salads. Engelbert says Lunch Room diners will be familiar with most of the dishes, and notes that one of its brunch favorites — biscuits and gravy with homemade seitan sausage — will now be offered every day.
Find the Detroit Street Filling Station Facebook page
here
.