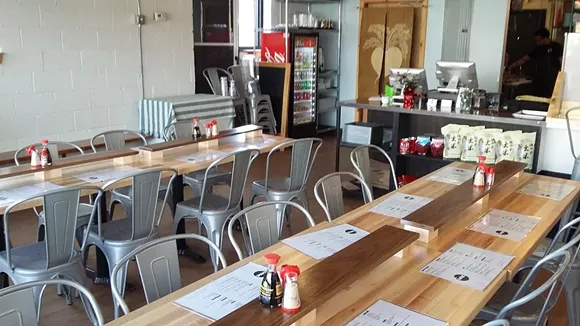 2016 was pretty rotten by most accounts, but it was a big year for the ever-growing Detroit restaurant scene, with dozens of new eateries popping up all over the metro area.
Are we reaching a restaurant industry bubble? Maybe not quite, but the momentum stayed strong throughout the year. December was no exception. We were introduced to a mix of high-end spots like Bad Luck Bar in Capitol Park and chef Matt Baldridge's The Conserva in Ferndale. We saw the reimagining of old-school joints like Red Corridor in the former Casey's Pub in Corktown. And we welcomed a new "meal in a bowl" noodle and rice spot, Ima, also in Corktown.
What we didn't see were any closures, or at least none that we are aware of (if you have any tips on that end, do please let us know).
See also:
Introducing the $80 cocktail at the upcoming Bad Luck bar in Capitol Park
See also:
Casey's Pub drama has settled, reopens as Red Corridor
Openings
Red Corridor, 1830 Michigan Ave.
Ima, 2015 Michigan Ave.
Fresh Market, 10200 Joseph Campau
Hamtramck
MEX, Great Lakes Crossing
Auburn Hills
Bad Luck Bar, 1218 Griswold
Avalon Bakery, DTW/McNamara Terminal; 129 E. Liberty
Ann Arbor
Otus Supply,345 E. Nine Mile
Ferndale
The Conserva, 201 E. Nine Mile
Ferndale
Oloman Café, 10215 Joseph Campau
Hamtramck
Miss Kim, 415 N 5th Ave
Ann Arbor
See also:
First Taste: Ima now serving bibimbap, udon, other meals in a bowl in Corktown

See also:
Hamtramck, the epicenter of DIY food culture