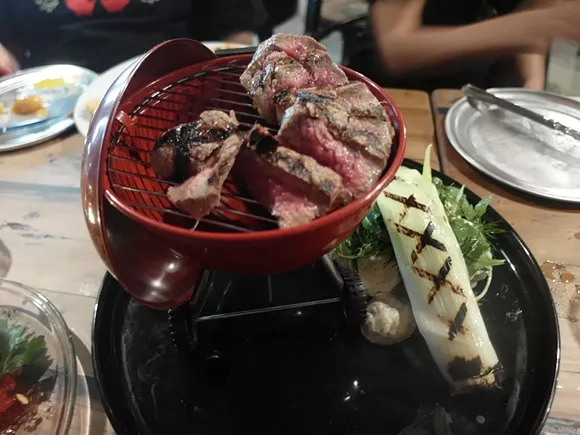 We know it's sometimes hard to process all of the new restaurants that have opened in metro Detroit. "It seems like something new is opening every week," is a common refrain we hear on the beat.
So we decided, let's make it easy and give you a to-do-friendly list of new spots that have opened during the month of September, as well as give you a on-stop heads up on the places that have shuttered.
This month, Rock City Eatery completed its big move from Hamtramck to Midtown, Café 78 launched SuperHappySushi to its full-time food lineup, and the Farmer's Hand food market kicked off its grand opening Sept. 30.
On the closure front, we said goodbye to a couple of places in Ferndale, including the short-lived Daily Dinette and longtime bar and pizzeria Como's, which
has been temporarily shuttered
by the Oakland County Health Division, both in Ferndale. Also closing was Mexican eatery El Zocalo, after a 30-plus-year run.
Tell us, have we missed anything? Let us know in the comments section.
See also:
SuperHappySushi launches inside MOCAD... And more restaurant openings

Closings
Como's
,
22812 Woodward Ave.
Ferndale

Daily Dinette,
280 W. Nine Mile Road, #1
Ferndale

El Zocalo,
3400 Bagley Ave
Mexicantown

See also:
Ferndale's Daily Dinette shutters this week
See also:
Coming to Capitol Park: the upscale TEN Nail Bar (with adult beverages)
Openings
Rock City Eatery,
4216 Woodward Ave.
Midtown
SuperHappySushi,
4454 Woodward Ave.
Midtown
The Morrie,
511 S. Main St.
Royal Oak
Pieology Pizzeria,
323 S. Main.
Royal Oak
Farmers Hand,
1701 Trumbull Ave.
Corktown
Black Eagle,
22930 Woodward Ave.
Ferndale
TEN Nail Bar,
1215 Griswold St.
Capitol Park
See also:
Farmer's Hand food market hopes to help fill the grocery void in Corktown
See also:
El Zocalo, longtime Mexicantown eatery, to close after 30-plus years
Got a scoop? We welcome all tips and feedback. Email us at
[email protected]