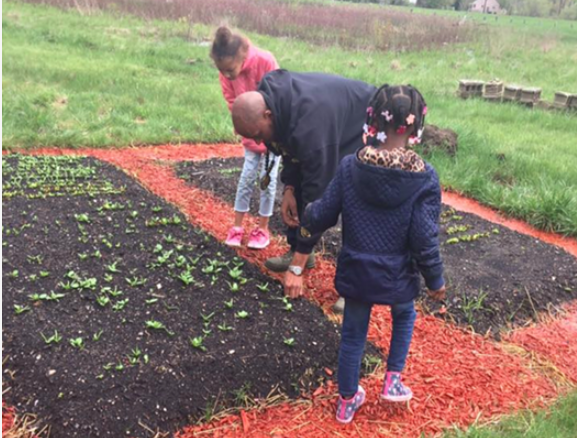 A black urban farmer in Detroit who last year was falsely accused by three white women of a range of crimes in calls to police has dropped one of his
lawsuits against them
.
Two of the women didn't respond to the suits filed in Wayne County Circuit Court, so a default judgment will be entered against them.
The women
made up increasingly serious-but-bogus stories
throughout 2017 and early 2018 as Marc Peeples built out an urban garden in Hunt Park near the State Fairgrounds. The women did so as part of an effort to have Peeples removed from the park, Peeples alleges. In the complaint, he states that the women had their own plans for Hunt Park and wanted to "take control" of it.
The case attracted national attention, and Peeples in early March sued, asking for $300,000 in damages.
But Peeples tells
Metro Times
that he wants to move on from the situation and focus on building Liberated Farms.
"I'm about to do a camp with the youth this summer, I've been improving the park, making it look better, and that's a victory right there," Peeples says. "It's not about the money. [The women] didn't get to run me away from the community ... and I'm building and doing more, and I'm going to take this momentum and resources and build and build."
One of the three women, Deborah Nash, retained Kyle Bristow, a white nationalist attorney, for the case. In a statement sent to
Metro Times
, Bristow suggested that his answer to the lawsuit is what prompted Peeples to drop the suit.
Peeples and his attorney, Robert Burton-Harris, say that's untrue. Bristow had "no bearing on Marc's decision to end it," Burton-Harris says.
"My client wanted to be done with Nash," he adds. "The two other defendants are in default, and I think he didn't want to be bothered with the space cadets any longer."
Peeples says he was "tired of dealing with the situation, dealing with court." It can be difficult to collect money from individuals, he adds, and he wants to ensure the focus is on the farm.
During the outpouring of support that followed the story, a
GoFundMe
page set up by one of Peeples' friends received over $64,000 in donations. Peeples says he has summer of youth programming in the works and is building a bigger farm than he did last time. Find Liberated Farms on
Facebook
and
Instagram
.
So many restaurants, so little time. Find out the latest Detroit dining news with our weekly food newsletter delivered every Friday morning.