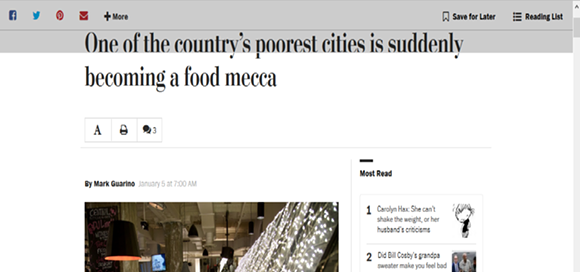 Ah yes, juxtaposing Detroit's ruinous past against the city's growing restaurant scene. It's a formula that national media just can't seem to quit, despite the cries of Detroiters, who want the over-simplifications and generalizations to end.
The latest publication to try and tackle Detroit's culinary transformation is the Washington Post, with a now painfully obvious storyline, declaring in its title that the city is
"suddenly becoming a food mecca."
Obvious because not quite two years ago,
the NY Times made a similar claim,
swapping out mecca with "oasis."
This time around it was freelance writer Mark Guarino, from Chicago, who took on the story. In his bio, he says he writes about culture and national news for news orgs including The Guardian, WaPo, Al Jazeera America, Salon, and numerous others.
While the story opens with a generalization that most can't argue with, that Detroit has traditionally been known as a meat-and-potatoes kind of town, it doesn't take long for us to start yawning at just how tired this narrative is going to turn out.
"Keeping up with launches is now a sport in this rebounding city, which over the past decade survived a government bailout of two of its three major car companies, the largest municipal bankruptcy in U.S. history and the shuttling of a recent mayor, Kwame Kilpatrick, to federal prison." In that 2014 Times story previously mention, keeping up with the food scene was a full-time job
(click here for our take on that story).
Guarino goes on, in almost identical fashion as the previous parachute author, by saying restaurateurs and chefs are "branching out beyond its tradition of reliable ethnic and steakhouse fare" to make Detroit a culinary destination (never mind the fact that most menus in these new restaurants draw at least some influence from all sorts of ethnic traditions).
Look, we get the appeal of telling the Detroit restaurant story. We're overwhelmed by the sheer volume of new places to check out. And we appreciate the legwork it took for Guarino to talk to some of the major players on the scene, including Dennis Archer Jr., co-owner of Central Kitchen and Bar, Molly Mitchell and Lucy de Parry, of Rose's Fine Foods, Gregory Holm, from Antietam, and Scott Rutterbush of Dine Drink Detroit.
But there is more to the story than simply patting industry insiders on the back. Try explaining the burgeoning gastropub and craft cocktail scene to a family experiencing poverty, who are struggling to get a gutted, abandoned trap house boarded up by the city, let alone sampling the newest $20 proprietary-blended Black Angus burger. Or try interviewing folks who've worked in the trenches to address food insecurity in one of the country's poorest cities and get their take on what all this exciting new development does for their efforts. Or at the very least, if you're going to visit and report on the scene, find a different angle. We Detroiters are certainly ready for it. And we have a feeling your national audiences will be, too.