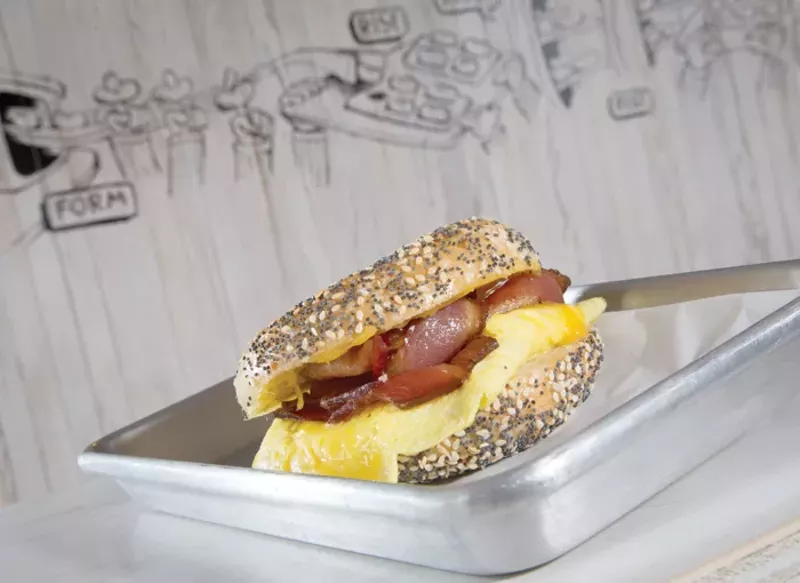 Two years after closing its original shop, Detroit Institute of Bagels is coming back with a fresh location in Core City.
Well, not fresh in the sense that it's
completely
new. Detroit Institute of Bagels owner Ben Newman confirmed to
Metro Times
the shop is reopening in the former Ochre Bakery at 4884 Grand River Ave.
Ochre Bakery closed its doors in May
, along with next-door neighbors Astro Coffee.
"Originally I thought [the cafe] was something of the past, but it did feel like I had some unfinished business," Newman says. "I think that I was missing the opportunity to use food to connect with people. I'm personally somewhat introverted but even for an introvert the amount of isolation during the pandemic makes you miss those social interactions."
Newman tells us he's aiming for a soft opening with coffee, bagels, and cream cheese on offer near the end of the year or the beginning of 2023. The breakfast sandwiches will come later along with new Jewish deli staples like house-made challah, rye bread, matzo ball soup, and pastrami sandwiches.
"In a way, the Jewish deli classics are something people see as comfort food whether they are Jewish or not, and being able to provide that is something I found a renewed passion for," he says. "Ochre had a bread oven which is different than a bagel oven, so we'll be able to make challah and rye bread in-house."
Detroit Institute of Bagels was actually planning a building expansion
when the Corktown cafe closed in 2020
, Newman says. But then the pandemic hit and, well, you know the rest.
"We were working on an expansion for two years to ramp up production and provide the new menu items and we got that permit in March of 2020 to start building," he says. "We had taken out a $1 million loan and originally I had optimism, but it became clear that building a giant space and taking out a huge note on that space wasn't a great idea."
He adds, "Then there were some personal things like having my first kid and my priorities had changed. Now that things have settled back in and we've had some time to strategize for what this new world looks like, I hope we can not just exist but thrive."
The new spot will have both dine-in and carry-out for orders placed online.
Detroit Institute of Bagels had been operating out of its former location since 2013. It has since been taken over by New Hampshire-founded
James Oliver Coffee Company
.
Stay connected with Detroit Metro Times. Subscribe to our newsletters, and follow us on Google News, Apple News, Twitter, Facebook, Instagram, Reddit, or TikTok.