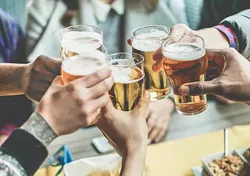 If you've been waiting all year to sport a necklace of pretzels
(yes, it's a thing)
so you can have an excuse to sip on some of the good stuff, the time is nigh. This weekend, the Detroit Fall Beer Festival is heading to Eastern Market to celebrate the festival's tenth edition.
The event, hosted by Michigan Brewers Guild, features 800+ beers exclusively from Michigan breweries, giving attendees the opportunity to indulge in an old favorite or discover a new locally made brew. Food from Detroit-area restaurants will also be available for purchase.
The ticket includes 15 drink tokens which are each redeemable for a three-ounce sample of beer. Additional tokens may also be purchased for 50 cents each.
The two-day event takes place Friday and Saturday in Detroit's Eastern Market. Saturday's event is sold out, however, tickets for Friday are still available at
mibeer.com/detroit-fall-festival
.
Detroit Fall Beer Festival takes place from 5 p.m. to 9 p.m. on Friday, Oct. 26 and 1 p.m. to 6 p.m. on Saturday, Oct. 27 at Eastern Market, Detroit; mibeer.com/detroit-fall-festival; Tickets are $20+.
So many restaurants, so little time. Sign up for our weekly food newsletter delivered every Friday morning for the latest Detroit dining news.