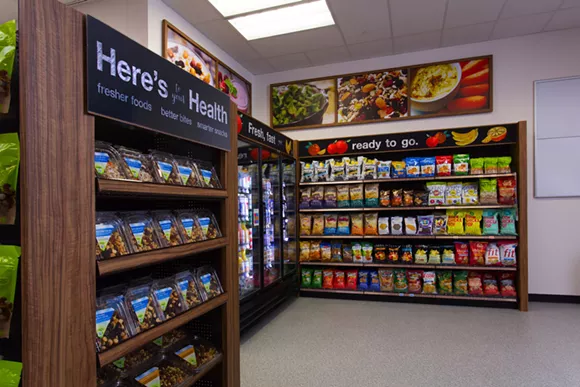 Detroit is widely considered a food desert in regards to the city's limited availability of major super markets. Therefore, many a city dweller either treks it to the 'burbs or makes due with the available options, which often means a trip to the corner party store or one of the many drug store chains, like CVS.
Up until recently, your drug store options were limited to mostly non-perishable food stuffs, gallon of milk, maybe a loaf bread and then a few aisles of canned goods and, let's face it, junk food.
That's starting to change now. Last month CVS Pharmacy announced the expansion of healthier foods and beverage at more than 2,900 of its stores nationwide, including several in Detroit. Niche products like Amy's Kitchen, Annie's Homegrown, Chobani yogurts, Vita CoCo coconut water, and healthier snack lines like KIND Bars, Larabars, and other grab-and-go items will be available.
The new push at CVS follows a nationwide trend in recent years to provide better food options inside pharmacy chains. Competitor Walgreens, for example, has been offering a limited line of good-for-you products like bananas, string cheese, protein bars, and other snacks for the past several years. In Chicago, a number of the chain's locations are even equipped with
sushi bars.
Don't expect to find California rolls anytime soon at your local CVS and just to be sure, you're not likely to see much in the way of fresh produce (you'll still need to make your weekly pilgrimage to Eastern Market for that).
(
Update: We would also like to note that this new effort appears more geared to an influx of Detroiters with disposable income than some social justice campaign. After all, prices at most chain pharmacies for everyday items are marked way up, compared to discount retailers and supermarkets.)

Still, if you've got the income, it is encouraging to learn that when hunger strikes at the most inopportune time, that you can run over to CVS and instead of reaching for the Doritos, you can satiate your cravings with a little Kashi.
We've reached out to a CVS spokeswoman to find out which Detroit locations have these expanded offerings. We'll be sure to update you with those details when they become available.