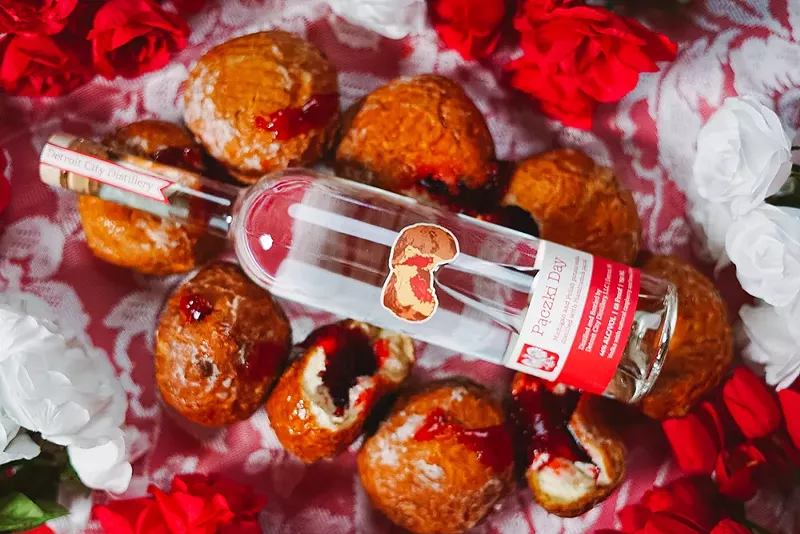 Detroit City Distillery's Paczki Day Vodka is exactly what it says it is.
"There are only two ingredients: vodka and paczki," Detroit City Distillery co-owner Michael Forsyth says in a statement. "There are no artificial ingredients, flavors or sweeteners that you find in mainstream flavored vodka. The goal is to make a true craft spirit that highlights the taste of these perfectly handmade, glazed raspberry paczki from Hamtramck."
He adds, "It's like a Paczki Day Party in a bottle."
To make the limited-edition bottles for Paczki Day, which celebrates Fat Tuesday and the beginning of Lent the Polish way, Detroit City Distillery literally drops fresh paczki into 500-gallon copper pot still with 100% potato vodka, in this case raspberry paczki from Hamtramck's New Palace Bakery.
"At 88 proof, it's ultra-smooth, and you can really taste the raspberry and buttery pastry of the paczki," Forsyth says.
Detroit City Distillery is releasing its annual limited-edition bottles of its Paczki Day Vodka starting at 8 a.m. on Friday, Feb. 3. The bottles go on sale for $35 at detroitcitydistillery.com/shop and are expected to quickly sell out. Last year, the bottles sold out in 72 hours, the distillery says.
Fans can sample the new bottles and pick up their online orders during a party at Detroit City Distillery's Eastern Market tasting room at 2462 Riopelle St. The event is open to the public and starts at 4 p.m. that day.
Detroit City Distillery says the Paczki Day Vodka will also be available at select liquor stores throughout Michigan and Illinois while supplies last.
"It's been incredible to see Paczki Day Vodka become a tradition within Michigan's Polish community and watch the sensation grow nationwide," Forsyth continued. "People travel from all over America to get their hands on this once-a-year spirit and celebrate with their Polish comrades. It's a special thing when a spirit brings people together. This year, we're excited to get Paczki Day Vodka to more Polish communities across the country via partnerships that support direct-to-consumer shipping so we can continue to gauge the demand nationwide."
Detroit City Distillery recommends that the Paczki Day Vodka should "be enjoyed chilled over ice, mixed in a cocktail, or as a paczki chaser."
Coming soon: Metro Times Daily newsletter. We'll send you a handful of interesting Detroit stories every morning. Subscribe now to not miss a thing.

Follow us: Google News | NewsBreak | Reddit | Instagram | Facebook | Twitter