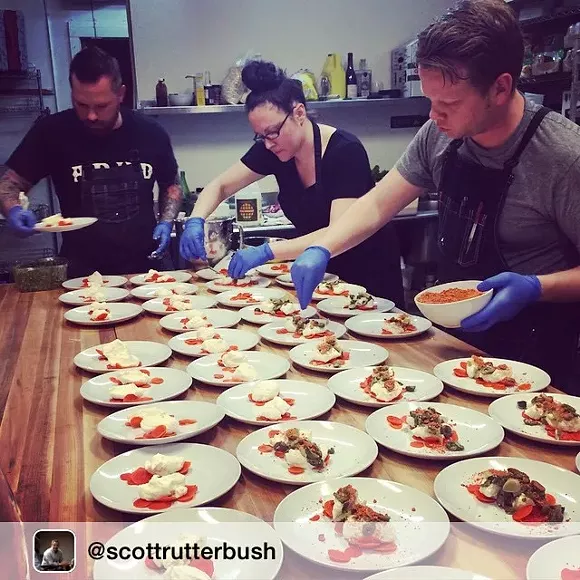 We first met Chef Kate Williams in the as-of-yet unfinished Republic, which would to become a stately tavern where Vikings could feast like, well, Vikings. Everything about her food is made to feel like you're stepped back in time, when medieval royalty sat around a long table and dined on hearty slabs of freshly-slaughtered meat and locally foraged root vegetables. It comes from her Irish heritage and Midwest upbringing. And it's that style that has set her apart in the local scene. Modern takes on classic comforts.
She's been busy since that first meeting. She since left Republic (and the adjoining diner Parks & Rec), and has been staying busy prepping to open her own restaurant, aptly-named Lady of the House. On top of that, she's conspiring a nationwide popup tour with Revolver co-founder Peter Dalinowski. When she's not doing her hustle, she's usually seen around town hobnobbing with other local chefs. We asked her what nourishes her busy lifestyle. She says in one hashtag: #spreadthatshitontoast.
Kate Williams: I'm that person who only eats leftovers cold, and I'm more likely to make tuna salad (just like my mom made it sans celery) or eat French cheese at home for breakfast/lunch/dinner more than most other things. Hummus is always a good idea (#spreadthatshitontoast), I love seltzer water, and because I cook with meat A LOT professionally, I don't eat it much when I order out or cook at home. This week was rare for me as I didn't have any event dinners so I saw friends for most meals and even ran into some pretty cool chefs and restaurant folks.
Tuesday: Detroit
8 a.m.: Protein Shake and Coconut Water
Recipe development in the suburbs
5 pm: Meeting with Peter Dalinowski (of Revolver) at Honest John's planning our national tour, ate the beef chili cup split­ the chili has such legs that it comes up over the bowl.
8 p.m.: Mabel Gray in Hazel Park
Went to visit Paul Fradaneck, who runs the Mabel Gray bar and cocktail program. Paul and I worked together opening Republic Tavern. Ordered the house pub cheese with pretzel bread, topped with pickled mustard seed and red onion. (#spreadthatshitontoast) Pretzel bread is made in-house and is really tender inside but has a perfect soft crust. Then hung out and sat at the bar with Chef Ed Sura (Perennial Virant, Chicago). We discussed the really important food issues we face today, like 'who is the best rapper to do station breakdown and cleanup to? (Jury is split between Drake and Biggie). Rachel Van Til poured wine samples and playfully quizzed me on Old vs. New World wines. I very rarely knew the answers to her questions but love when she teaches me. Rachel is young and incredibly knowledgeable. I like surrounding myself with those who know so much about wine and spirits.
Wednesday­ Detroit
8 a.m.: Homemade Apple Juice and Protein Shake
Meet with architect at new Lady of the House space
Recipe development in suburbs
1 p.m.: Stopped at Shish Express in Warren on 10 Mile and had a legendary Shish Tawook and chicken lemon rice soup. I just happened upon this place but I'd go there again in a heartbeat. It's in a strip mall­ where most great American cuisine exists.
9:30 p.m.: Finished my leftovers for late dinner
Thursday­ Detroit
8 a.m.: Protein Shake
Menu planning and bread testing for upcoming dinners
2:30 p.m.: At Mudgie's to meet my friend Mike Finsilver. Mudgie's is one of my weekday favorites. Sandwiches, tight staff and it is really close to my house in Corktown. Putnam Weekly tends bar there and immediately gives me a taste of the new dessert special, the Calderato­ Calder Ice Cream and Moscatel Dorado. Mike ordered the Kenna Sandwich­ herbed chicken salad, tomato, dill Havarti cheese, avocado, sunflower sprouts, and house-made spinach spread, which is, in his words "garlicky as shit and delicious" I got the Barrett­ Sy Ginsburg Corned Beef, with 1000 Island, Swiss cheese, creamy coleslaw, on an onion roll. I could only finish half but ate the whole pickle.
Tip: If you sit at the bar at Mudgie's, the bartenders will probably give you a taste of things they like. May include but not limited to: Pickles, what I consider award­winning Bloody Mary mix, Tequila from owner Greg Mudge that is ridiculously smooth.
4 p.m. Met with environmental inspector at Lady of the House space
7 p.m.: Wright & Company with my friend Sara. Tuna tartare always happens and Chef Marc's never disappoints. We also got a pasta dish with butternut squash, heirloom tomato salad, loaded potato chips, and Chef sends out fried shrimp, perfectly crispy and saturated with a sauce coating. Chef comes out and drinks a Fernet with us while we talk Detroit restaurants.
Friday­ Detroit
8 a.m. Homemade Carrot, Apple, Beet, Strawberry Juice
Recipe testing and development
All Day: Eat and taste my bread test and roast tests made day before vs. Zingerman's breads
4:40 pm: Visit Flower House Detroit exhibit and am blown away. Visit
http://www.theflower.house/ for pictures and info.
No dinner.
Saturday­ Detroit/Three Oaks/Pentwater
9 a.m.: Protein Shake and homemade Carrot, Apple, Red Pepper Juice
12 p.m.: Drove to witness my cousin Nancy marry her partner Jyll at the Journeyman Distillery in
Three Oaks, Mich.
6 p.m.: Journeyman Distillery Reception Dinner: stuffed mushrooms with pesto and parmesan cheese, butternut squash salad with caramelized onions and sage, French bread.
Sunday: Pentwater, Traverse City
9 a.m.: Heading from Pentwater to Traverse City for Pigstock TC, an intense field-to-fork workshop on all things pig. Driving up through gorgeous fall color leaves here goes exceptionally well with gas station coffee, Smart Water, and turkey sausage jerky links (Gas station jerkies are my guilty pleasure. No road trip is complete without them).
6:30 p.m. Pigstock TC 5-course dinner
PHOTO
Sat with Brian Proctor, sous chef at New Holland Brewing Co, and Herb Forker also from New Holland. Carri Thurman, chef and owner of Two Sisters Bakery in Homer, Alaska, her daughter Maya, and Jennifer Sanborn, a badass sausage maker and expert knitter from Minnesota sat with us as well. We talked halibut fishing, tasting menus, and Carri and I geeked out over Copenhagen (where we both were last year).
After Dinner:
9:30 p.m.: Manhattans with the New Holland crew and Reserve Grand Rapids sous chef, Luke VerHulst, at Hotel Bar of West Bay Beach Inn(the remaining turkey jerky links were finished off).
Monday: Traverse City
7 a.m.: West Beach Bay Inn hotel room coffee black
8:30 a.m.: Walk across to Hagerty Center where Pigstock is being held for the rest of the time. Small cup fruit Talks and demonstrations begin from Kate Hill and Dominique Chapolard, Cama Davis, Isabell and Christoph Meisner. Duroc and Mangalitsa pigs are butchered.
10­12:30 p.m. More Coffee
12:30 p.m.: Lunch from Isabelle: tomato soup, blood and potato Austrian Stew, rosemary bread with lardo brought from Austria. #spreadthatshitontoast
7 p.m.: The Franklin Dinner
Essentially an after party. Someone ordered pierogis (thank goodness, good choice). I ordered Walleye fish and chips. Joe Hakim, from the Hungry Dudes blog, ordered a burger. Kate and Dominique also ordered burgers. They all loved them. The new Holland Guys Chef Brian and Herb got pork schnitzel and kale and Luke from reserve ordered the big guy veal chop. We all also ordered mashed turnips with Gorgonzola and crispy onion cauliflower with curry and peanuts. General consensus: delicious and a great time.