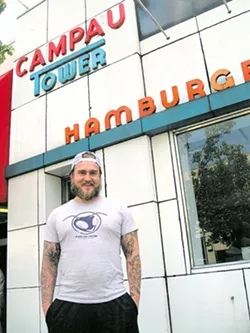 The menu at Nikita Sanches' Rock City Eatery is always rotating, thanks to his non-stop search for the next best secret ingredient. He tells us that he rises at 6 a.m. daily to re-stock RCE and Campau Tower and doesn't leave the kitchen until the last meal hits the table. Thus, this gives him very little room for himself to sit down and enjoy a meal. It got us thinking, what do chefs like him eat when they're not cooking for the masses? In this inaugural installment of
Detroit Chef Diet
, we asked Sanches to share his food diary for 96 hours earlier this month. Spoiler: There's lot of Starbucks involved.
7/9/2015
First thing I consumed this morning was a large amount of water to help relive the side effects of one too many 'Champagne of Beers' last night. Once I got my morning going I stopped by Starbucks for a dark roast and a cup of water. During my shopping in the morning I got a ham and scallion bun at the 168 Asian Market. Later on I was buying ingredients at my favorite store (Costco) and I sampled few of their sausage offerings. On my way to Rock City Eatery I realized that I needed another Starbucks dark roast. For lunch my fiancée dropped off a couple of her amazing sandwiches. Had some tacos and a few PBR's with friends at Imperial on my way home.
7/10
Friday morning started just like Thursday with the consumption of lots of water and a bunch of dark roast coffee. Didn't really have breakfast but for lunch I had some of my mom's sorrel soup that she dropped off, and one of my fiancée's sandwiches from the day before. Dinner consisted of a lot of PBR at Small's where I discussed the local food scene with Melody Malosh, and watched the Limp Bizkit dude perform after he dined at RCE. Went on a late night food run to Tower where I had a cheeseburger and Good Morning Dog.
7/11
Saturday morning started very rough with lots of shopping and prep, so I had a couple of Jimmy John's sandwiches and my dark roast coffee. Did not eat anything until dinner which consisted of a variety of goodies from a graduation party that my fiancée attended.
7/12
Sunday, coffee, more coffee at RCE and a breakfast taco. Later went to the Original Pancake House and had a second round of breakfast: 3 eggs sunny-side-up, ham, sausage links, home fries and dry rye toast. Dinner consisted of Thai green curry over rice from a local joint.