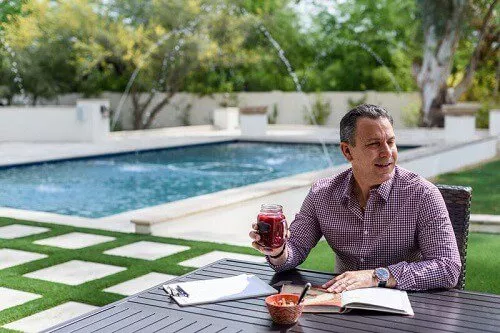 It's quite an honor, isn't it? When PETA takes time to explore the older-than-50 vegan set and the
sometimes terrorist group
and
killer of unadopted cats and dogs
settles on you. You. Well, not just you. You're not
the
sexiest vegan. You're not even the sexiest vegan over 50. But, you are the sexiest male vegan over 50. The vegans under the age of 50 are sexier than you. And there's another vegan over the age of 50 who is equally as sexy as you, just female. Sorry. Them's the breaks.
Still! It's an honor, right? You're a vegan. You're a best-selling author. You regularly contribute to news sites like The Huffington Post. You do great things. You're Dr. Joel Kahn and you own and operate the Kahn Center for Cardiac Longevity and you're also the guy behind
GreenSpace Cafe
on Nine Mile in Ferndale. You've spent the last 20 years educating people about the benefits of consuming a plant-based diet. You've spent a great deal of your life as an advocate for animals (according to PETA) and helping people eschew a lifestyle of fast food and Diet Coke. But, being named the sexiest male vegan over the age of 50 — that's the goal you've been working towards. The real honor isn't building a legacy, opening an award-winning restaurant, having thousands of people read the words you write.
The real honor is that PETA thinks you're sexy.
So, here's to you, Dr. Kahn. You're the sexiest male vegan over 50. According to PETA.