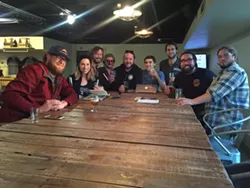 Last year a handful of Detroit beer makers got together and started a tradition they coined the Detroit Beer Experiment. The exercise invites breweries to create an interpretation of one another's brews. For example, Batch Brewing might create their own version of Atwater's famous Dirty Blonde. Or maybe Brew Detroit would concoct a rendition of Motor City Brewing Works' Ghettoblaster.
This year, though, they're doing things a little bit different. Each brewery, a list that includes Atwater Brewery, Batch Brewing Company, Brew Detroit, Detroit Beer Company, Granite City, Motor City Brewing Works, and Traffic Jam and Snug, is teaming up with a non-beer Detroit businesses — namely Bon Bon Bon, Green Dot Stables, Sweet Potato Sensations, Anthology Coffee, Avalon Bakery, and GoGo's Hawaiian Street Food.
Each brewer created a food-inspired beer based on their non-beer partner. In some cases they even used some of their partner's signature ingredients.
Bon Bon Bon is paired with Batch Brewing Company, a partnership that was so fruitful it resulted in a beer and bon bon dinner that will take place on Nov. 21.
Other matches include Brew Detroit and Green Dot Stables, Atwater and Slows BBQ, Detroit Beer Co and Sweet Potato Sensations, Granite City and Anthology Coffee, Traffic Jam and Snug and Avalon Bakery, and Motor City Brewing Works and GoGo's Hawaiian Street Food.
The beers will all debut and their respective breweries on Thursday, Oct. 20 and each will also be available for sampling at Fall Beer Festival at Eastern Market on Friday, Oct. 21 and Saturday, Oct. 22.
For more info click
here
.