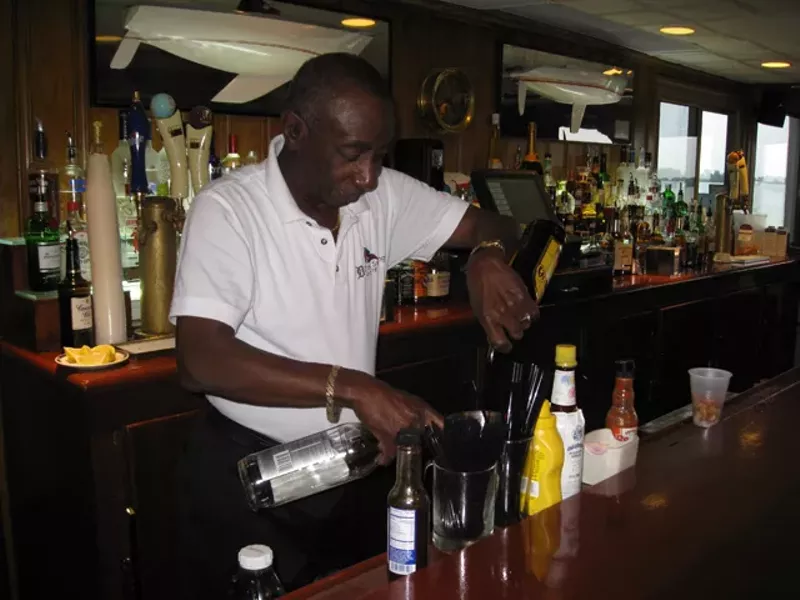 One of Detroit's most famous bartenders died this weekend.
Jerome Adams, longtime bartender at the Bayview Yacht Club in Detroit, died early Saturday morning, according to
Bayview Yacht Club
.
Adams was best known as the inventor of
The Hummer,
his world-renowned signature cocktail that he crafted in 1968 while tending bar at the Yacht Club.
"When I invented the drink, I never thought it was going to be that big," Adams told
Metro Times
in 2011.
After mixing the drinks for his fellow staff members at Bayview in 1968, Ed Jacoby, bar and restaurant chairman at Bayview, insisted on trying one. After downing a few of Davis' new drink, Jacoby gave his two cents on the cocktail.
"You know what? After two of these damn things, kinda makes you wanna hum," Jacoby told Adams. Thus, The Hummer was born.
The drink took on an international following after local Bayview members would take trips around the world and requested The Hummer at bars and clubs all over the world. In these pre-internet days, bartenders would have to spring for a long distance call to Bayview. Calls from California, Florida, and even France would come in asking for the ingredients for this secretive sailor's drink.
Founded in 1915, Bayview Yacht Club is a staple of yacht racing in Detroit. They are closed on Mondays and Tuesdays until the sailing season begins, but if you'd like to commemorate Adams' life with a Hummer, here are the ingredients for his iconic drink.
The Hummer

1-1/2 ounces rum (usually Bacardi)

1-1/2 ounces Kahlua

2 scoops vanilla ice cream

A couple ice cubes

Blend and serve in a 7-1/2 ounce rocks glass.
Anthony Spak is an editorial intern with the Metro Times and a recent graduate of Oakland University's journalism program.

So many restaurants, so little time. Find out the latest Detroit dining news with our weekly food newsletter delivered every Friday morning.