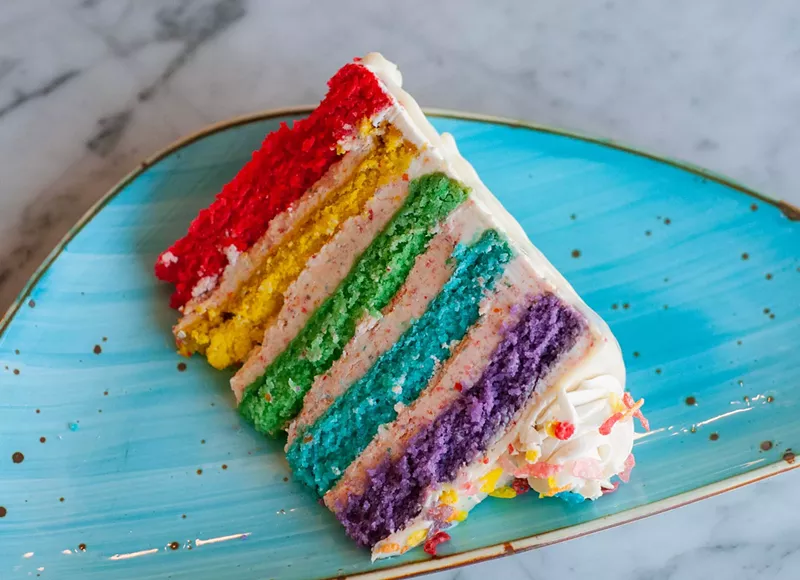 In the pantheon of great Detroit bakeries, each has made its mark with a specialty — Ochre's killer lamination (RIP), Avalon's breads, Cannelle's decadent pastries, or anything baker Eggy Ding makes at Rose's. For The Love of Sugar, as the name implies, is where one goes purely for sweets, or more specifically, cakes.
The small bakery is a venture of Manal Hussein, who has a classic small food business story: she baked as a hobby for some time and gave up a career in marketing to follow her heart and open For The Love Of Sugar. She and her friends don't drink, she says, and they like to find good desserts after going out to dinner. The goal was to provide the kind of spot where one can go with friends to chill and enjoy a high caliber slice of cake and a coffee, and before the COVID-19 pandemic, the shop stayed open until midnight to serve a steady stream of customers on a late-night dessert hunt.
Some of the cakes are colorful and whimsical, like the birthday or Fruity Pebbles cakes, while others are a bit more elegant and refined, like the Matilda chocolate cake. Regardless of the mood, the name promises sugar, and For The Love of Sugar delivers — these are some sweet sweets, but Hussein never crosses the line into "too sweet" territory. There was never a dry cake in the bunch, and some are lighter and fluffier, while others a hair denser and spongier, and most are largely driven by some iteration of buttercream.
Among the best was the birthday cake, a nostalgic dessert that is a high end version of what you would eat as a kid — yellow cake, with "birthday flavored" buttercream frosting and a generous load of sprinkles. This was the first cake Hussein ever developed, and she calls it "an ode" to her husband, whose favorite flavor is birthday cake.
Diving into the Matilda is akin to hitting a wall of chocolate — it's rich, layered with dense black chocolate buttercream frosting (black chocolate is dark chocolate that is alkalized so it's not as bitter), and adorned with a bit of chocolate ganache and chocolate chips. "Chocolate on chocolate on chocolate," Hussein notes, but she says she is careful not to make it too rich, and though she again pushes deep into that territory, the Matilda is not a heart-stopper.
Hussein's triple berry is a white cake with a Bavarian buttercream, which is essentially fresh custard. Don't let the name fool you as there are four berry jams — blueberry, strawberry, blackberry, and strawberry — and it's excellent. The Fruity Pebbles is an ode to Hussein's favorite cereal, a white cake that's rainbow dyed, dotted with cereal bits, layered with a Fruity Pebbles buttercream, and topped with white chocolate ganache.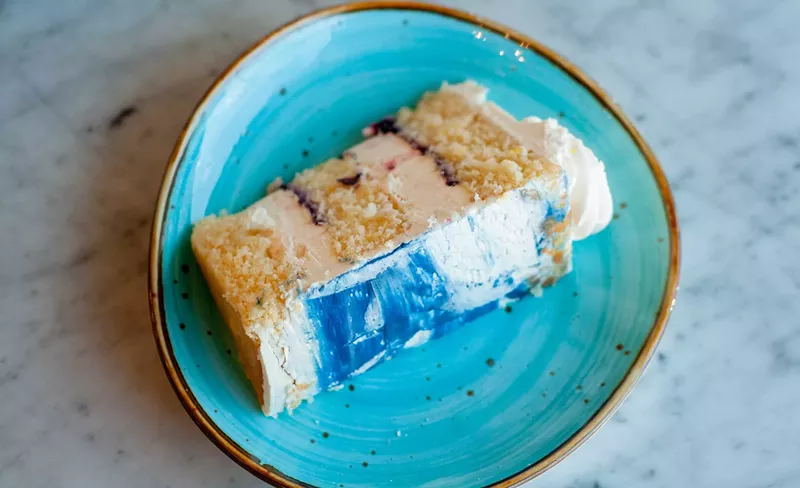 We also tried a vegan and gluten-free slice of a white cake with faux buttercream. A co-diner with such dietary restrictions says alternatives rarely compare with the original when it comes to cake, but she liked Hussein's version, a vanilla cake which she described as "coffee cake-esque." She found the thick frosting nearly replicated buttercream, though a tad waxy in texture. The cake was on the denser side, as nothing fluffs quite like gluten, and it was a satisfying slice.
The banana cake is the least sweet cake we tried and arrives with a dense, spongy banana bread-like cake topped with cream cheese buttercream and caramel drizzle. The offering is on its way off the menu, much to the dismay of its fans, Hussein acknowledges. But she needs to make room for a lemon cake with blueberries in compote form. The blueberries and lemon doing their sweet and tart balancing act to a backdrop of the lemon buttercream frosting, and the package is moist, soft, and slightly rich — props for the beautiful blue marbling decorating the outer edge.
Aside from cake, For The Love Of Sugar offers a full coffee roster, macaroons, cookies, brownies, custom cakes, and much more. The cheesecake cookie is a big serving of cheesecake sandwiched between two chewy chocolate chip cookies. The cookie cream cinnamon roll is everything one loves about cinnamon rolls, but enhanced with a healthy dousing of cookie butter buttercream frosting — cookie butter is essentially like peanut butter, but made with Biscoff cookies — and topped with crumbled Biscoff cookies and caramel.
Staffing issues have shortened the shop's hours, but all the hits are still there, and the bakery stands as one of Detroit's best.
Coming soon: Metro Times Daily newsletter. We'll send you a handful of interesting Detroit stories every morning. Subscribe now to not miss a thing.

Follow us: Google News | NewsBreak | Reddit | Instagram | Facebook | Twitter