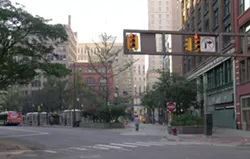 New details about a swanky steakhouse and an adjoining bar coming to Capitol Park have been revealed and include a number prime amenities for its clientele.
As reported by
D Business
,
among the fringe benefits of frequenting the new eatery, to be called Prime + Proper, a butcher counter where customers can select their own cuts of dry aged steak, custom steak knives for repeat customers available upon arrival in the dining room, as well as access to the private Cash Only bar in the lower level.
Behind Prime + Proper, at 1145 Griswold, is Jeremy Sasson, who last year opened the unapologetically extravagant Townhouse Detroit on Congress and Woodward.
We noted at the time that it was a louder, flashier version of Sasson's original Townhouse bar in Birmingham - complete with a "libations library," a loose take on a dim sum cart, and a statement-making atrium that allows diners to eat and drink in a controlled outdoor-like setting.
Prime + Proper appears to be taking the concept of exclusivity up quite a few notches (in fact D Business in its headline goes as far as to suggest the Capitol Park restaurant "may be the finest steakhouse in America").
The restaurant area will also house a lounge and raw bar. The 80-person capacity bar will no accept credit cards. Nor will cells phones or cameras be allowed. Checks will be handwritten using quill pens, and the cocktails will be "interactive," to "cultivate the eyes, nose, and mouth."
Those custom steak knives? The business magazine says the restaurant will work with knife and metal smiths to craft them. The steakhouse will use 100 percent USDA prime beef and lamb, and jidori chicken, and a dry aging facility will be on-site. In addition to allowing customers to pick their cut while dining in the restaurant, they can also opt to have meats wrapped up at the butcher counter to cook at home.
In all, the space is about 11,000 feet, with the restaurant area seating 180. Brought on to design is Birmingham-based McIntosh Poris Associates. The kitchen will be headed by Townhouse executive chef Michael Barrera. The restaurant's dining room is set on the ground level of the upcoming Capitol Park Lofts.
Prime + Proper's addition further lends an air of exclusivity in Capitol Park, a destination for city dwellers and visitors with an abundance of disposable income.
Already in surrounding area are a number of high-end restaurants and businesses, including Wright & Company, the John Varvatos store, Kit and Ace clothing retailer, and The Albert apartments (which boast on-site dog-grooming, a gym, and dry cleaning delivery). In the works are several other eateries, including La Lanterna, Go! Sy Thai, and
The Bad Luck Bar
(from the Detroit Optimist Society group).

See also:
Townhouse Detroit serves up unapologetic extravagance
See also:
Go! Sy Thai to expand in The Albert in downtown's Capitol Park

See also:
La Lanterna makes a return to Capitol Park