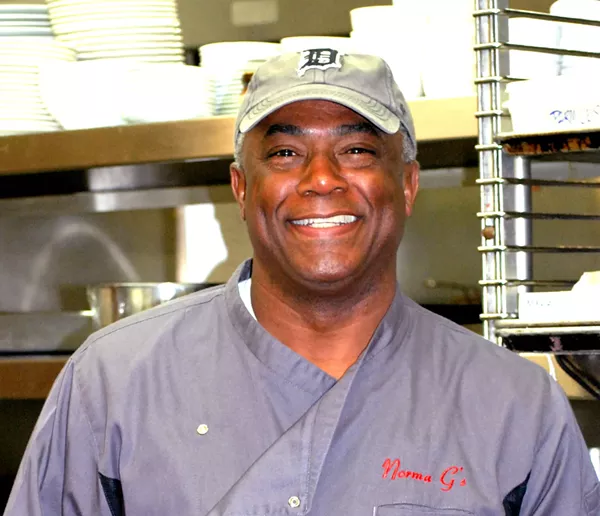 Some of the menu items on Norma G's menu aren't totally unfamiliar to Detroit.
Callalloo
, chicken pelau, jerk chicken, curry goat — these are plates you'll find in some of the city's other Caribbean eateries.
Still, what Norma G's owner and chef Lester Gouvia is doing and preparing is something new in Detroit. Though he's billing his Jefferson-Chalmers eatery — which hosts a soft opening on Thursday — as a Caribbean restaurant, Gouvia was born in Trinidad, and he's offering "Caribbean" dishes as they're prepared there, rather than in Jamaica, for example.
"There are similarities in the names [of Caribbean dishes], but not necessarily the taste," Gouvia tells
Metro Times
. Even more specifically, he describes his dishes as comfort food, like those recipes that his mom — Norma G — prepared in her kitchen when Gouvia was a boy.
"This is what I grew up with, and what I'm trying to do is share what my mom cooked — it's a tribute to her," Gouvia says. "It's simple things, simple food, and I want to share that food with everyone."
He also notes that the flavors of Trinidad are influenced by a range of cuisines from the island's colonizers like the French, Spanish, Dutch, and English. Even Chinese populations made their way through the Caribbean and left their prints on some of the recipes.
So while you might know Jamaican callaloo, you might not know the soupier Trinidadian style that Gouvia prepares.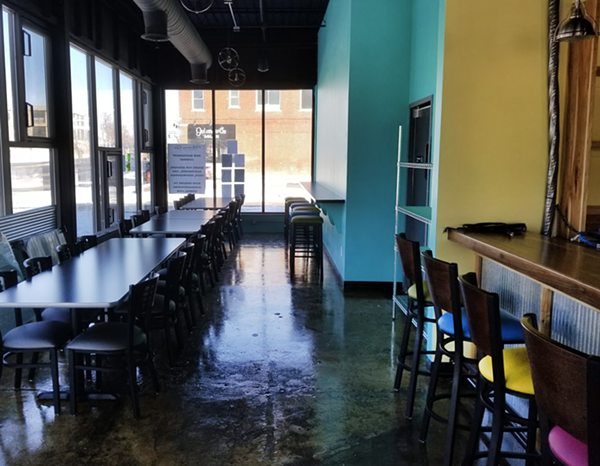 His chicken pelau is a jumble of rice, chicken, house seasoning, squash, pigeon peas, and peppers that Gouvia "bakes to a golden brown." Jerk chicken gets the comfort food treatment in the jerk chicken pasta, in which the bird and peppers are mixed in a sauce of cream and blended cheeses.
Oxtail sliders or jerk chicken sliders can be paired with mac and cheese or Trinidadian potato salad. Norma's also offers a list of four vegan options, including
melongene —
diced eggplant and sweet onion sautéed in a homemade marinara sauce and served with jasmine rice.
Among the appetizers are codfish balls made with dried codfish that's sautéed with herbs, vegetables, house seasoning, and mashed potatoes. It's blended together into a ball, fried, and served with a garlic or chipotle or garlic horseradish mayo.
Doubles are "classic Trinidadian street food" with chickpeas sautéed in house spices with onions, that's all served between housemade fried dough. It's accompanied by a tamarind sauce and mango chutney.
Norma G's offers a full bar along with a selection of pops, and a sorrel beverage along with coffee and tea. Desserts are made with Wally's frozen custard, and includes the Trini Trifecta with vanilla frozen custard, Trinidadian rum, and cinnamon.
The other thing that sets Norma's apart is the vibe. It's a sit-down restaurant, and it's casual and colorful, but also tasteful. There really isn't much like it in Detroit.
"What was in my head was the bright colors — when you think of the Caribbean, you think of bright colors and Carnival, and that's reflected in here without being crazy," Gouvia says. "There are no seashells or palm trees ... you can do things tastefully and be colorful and it doesn't have to be cheesy."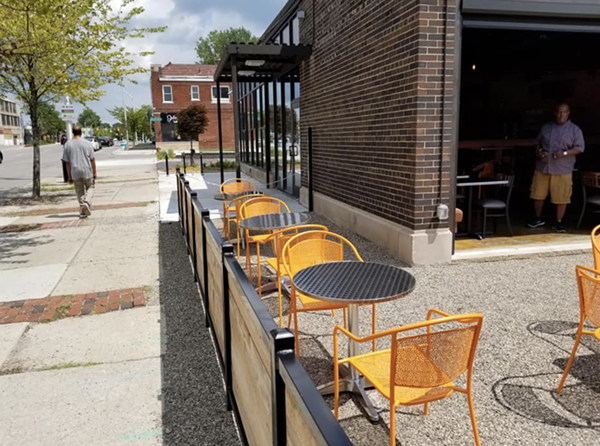 Gouvia was born in Trinidad but moved to Brooklyn as a young boy. A job in the financial industry led him to metro Detroit where he only intended to stay a few years, but he loved the area and never left. Jefferson-Chalmers appealed to him more than downtown, Midtown, or other neighborhoods because he feels that Norma's will have a greater impact there.
Gouvia worked with SWOT City to pull together funding for the roughly $450,000 project from a variety of sources, including a $60,000 Motor City Match Grant. He's leasing the building from Jefferson East, Inc.
Norma G's is located at 14628 E. Jefferson Ave. in Detroit.
So many restaurants, so little time. Find out the latest Detroit dining news with our weekly food newsletter delivered every Friday morning.