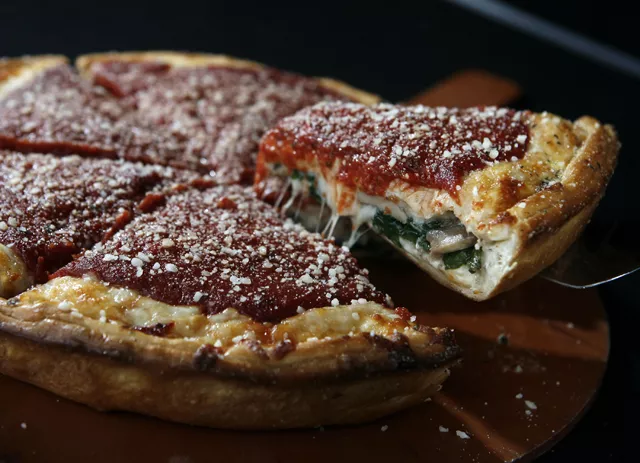 Michigo Pizza
255 W. Nine Mile Rd., Ferndale
248-439-6195
A restaurant's name ought to be easy to pronounce — you don't want people feeling any subconscious inhibition about talking it up to their friends. I was stumped by "Michigo," with the middle three letters written in red. Was it mi-SHIH-go, prompting thoughts of meshuga (Yiddish for "crazy")? Turns out it's MISH-uh-go, like Michigan with a different last syllable.
Co-owners and first-time restaurateurs Michael Miner and Bill Hooker highlight the letters "chi" because their inspiration is all Chi-town. It's true Chicago-style deep-dish they're after, and to motivate them, one wall is lined with photos of Wrigley Field, Oprah, Michael Jordan in mid-flight and other local icons. No Rahm, thank god. (The Michigan wall boasts Eminem, Aretha and Henry Ford.)
The two novices are going at their new career like pros, insisting on fresh vegetables and preparing everything in-house. I don't know if it's appropriate to use the word "fresh" about meats that, by definition, are processed within an inch of their lives — pepperoni, salami, bacon — but Michigo's meats ("never frozen") manage to taste fresh: thoroughly wholesome if not natural.
Their dough, made with olive oil and a bit of honey (plus more I'm not privy to) produces a flaky crust fit for an apple or pecan pie, rather than the breadier versions we're used to. I'm guessing the top edges are protected for a good portion of the baking, because they're never charred.
In top-of-the-line thin-crust pizza joints, pizzaioli vie for the hottest oven (wood, coal), enabling the lightweight pie to be flash-cooked. At Michigo, where the stuffing is dense and the crust is 1-1/2 inches tall, speed isn't possible and the wait is long. It takes at least a half-hour to bake a large pie (serves four to five). An individual size takes 18 minutes.
That's a good reason to order an antipasto salad. The Muenster and Cheddar are ordinary, but the fat dark and green olives are luscious, and the thin slices of salami, pepperoni and prosciutto will tantalize as they tide you over. Atop a cheap pizza, coins of pepperoni are often like shoe leather, but in the big see-through slices here, unheated, the delicate flavors, including clove, are on display.
And that's true in the pizzas too. Because the meat is less exposed — surrounded on all sides by cheese and more meat — it's protected from drying out. The "Meat Lovers' Pizza" takes it to the max with Italian sausage, ground beef, bacon and pepperoni, each adding its distinctive animal savor. The cheese is mozzarella and provolone, and the sauce is a fresh-tasting tomato with basil and a bit of wine.
Though Miner says his spinach pizza is his biggest seller, I preferred the "Great Alternative": egg, sausage, bacon, onion and red pepper. It might not sound wonderful to top your breakfast with red sauce (though think of the folks who pour on ketchup), but this is an inspired pie.
The spinach in the no-meat spinach pizza is noticeably fresh, and its cheese is feta, but I found it blander than the others. Other possibilities are cheese (also with feta), Hawaiian, "Vampire's Nemesis" (fresh roasted garlic) and a vegan option with Daiya-brand "mozzarella-style shreds." Sigh.
I hated to turn away from the pizzas in the interests of research, but found two grinders top-notch, and one of them pretty pizza-like. ("Grinder" is New England-ese for a sub.) For $4.95 you get both sandwich and soft drink (and the wait is less). The hot "Pizza-Meat Grinder" is essentially the same as the Meat Lover's Pizza but baked on toasted garlic bread, with red sauce and lots of cheese. The "Italian Grinder" is salami, pepperoni, ham, cheese, red onion, spinach, tomato and Italian dressing on a warm, crisp roll; I list all the components because each plays a noticeable and welcome role; none is just making the record.
Miner and Hooker made good choices for the two salads they offer: all spinach, no lettuce. For house-made desserts they go rather upscale, to fit with the Chazzano coffee. A flourless chocolate cake (so simple yet sublime) is fudgily dark, with a raspberry sauce. Bread pudding with apples and raisins tastes like a riot of butter and vanilla going down, though afterward your aching teeth will tell you that it was also surpassingly sweet.
Michigo is offering a generous deal Monday through Thursday for eat-in diners: Pizzas are $3 cheaper, meaning an individual-size for $5.95. Can't beat that with a breadstick. A kids' menu offers flat cheese pizza, recognizing that most children are culinary conservatives.
Michigo is open 11 a.m. to 10 p.m. Monday through Saturday, and 11 a.m. to 8 p.m. Sundays. Shorten your wait time by calling ahead with your order, whether you're dining in or taking out.