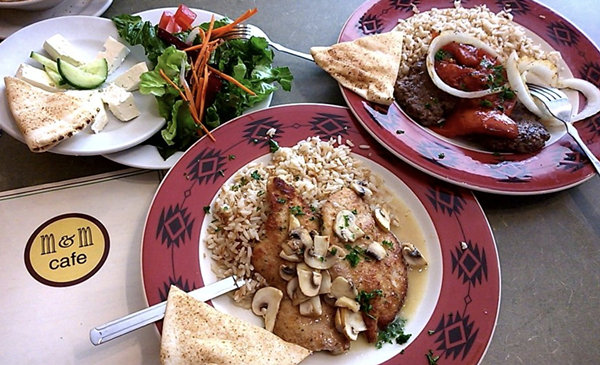 Long before many of Dearborn's second generation of restaurateurs and cooks were developing menus with Lebanese fare and classic American dishes, the M&M Cafe near Dearborn's city hall did just that.
Its owners' love for both nation's cuisine helped turn the simple-but-homey Dearborn restaurant into an institution with a dedicated customer base over the last 35 years. But the M&M will serve its final meals sometime this summer.
Owners Maurice and Elaine Lteif say they've sold the business and are handing it over to a young restaurateur who will change the name to the Now Cafe. Elaine Lteif tells
Metro Times
she and her husband are approaching 70 years old, and the time is right for a change.
"It's a bittersweet moment," she says. "We're almost 70 years old. We're not getting any younger, and right now we're healthy, and this young man who is very eager approached us, so everything fell into place."
The Lteifs opened the M&M in the early 1980s as Maurice Lteif struggled to get regular employment at a Ford plant in Utica. Frustrated with lay offs, he found a small building for sale and opened the M&M's original location. He continued working at Ford, but the exhaustion set in and he soon decided to go all in on the restaurant.
Since then, he and the M&M served everything from shish kafta to tuna melts to kebab sandwiches to specials like crab cakes. Some say the "Maurice Burger" — a quarter-pound ground beef patty that's mixed with chopped parsley, green peppers, tomatoes, and onions — isn't too unlike a tabouleh burger.
Elaine Lteif says the new owner will keep some of the M&M's menu items, but he will also add his own.
"He's really a very nice person. He has a lot of great ideas," Elaine Lteif says. "He is the kind of person I would work for. People have to understand that we didn't make it in the first year or two. We struggled, so I know once he gets his restaurant legs, he's going to do really well."
The Lteifs will remain at the restaurant through the end of June, at least, though they could be there slightly longer. But what comes after for the husband and wife?
"We're going to clean our house out. We neglected our house for the last 35 years, so it's time to straighten up," Elaine Lteif says with a laugh.
But she adds she's going to miss her customers, who she says have been "wonderful" over the years.
"We've had the best customer base that helped us do it for 35 years," Elaine Lteif says. "Such wonderful customers, with many same the same faces, thankfully, year after year. That's what kept us going — this wonderful group of people. We really are lucky."
So many restaurants, so little time. Find out the latest Detroit dining news with our weekly food newsletter delivered every Friday morning.