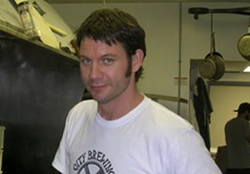 Signs of life were apparent Thursday night at the work-in-progress La Rondinella Italian eatery, the passion project by Supino Pizzeria owner Dave Mancini. Amidst the thousands of Detroiters and tourists who flocked to Eastern Market to check out the Murals in the Market event, the forthcoming restaurant's lights were on, as drinks were being poured and a small sampling of food was served to an intimate group of guests.
Mancini, busy at work at the pizzeria, tells us that the menu was tiny, basically just slices of cheese, one cocktail and meatballs that he says will likely go on the menu once the spot opens. "Just because they were doing something in the market, we wanted to take advantage of that," he says.
The local legendary pizza maker has slowly worked on getting the space for La Rondinella ready for some time by now, suggesting he's taking his time to make it perfect. Situated next door to the pizza joint, the new spot's menu will be more straight-ahead Italian. He hosted a popup at Motor City Wine this summer to keep people buzzing. While he's still not providing any clues about a tentative opening date, we're hungry to find out what other tasty Italian fare he's got cooking.