We've been craving the pies churned out by Dangerously Delicious Pies for awhile. Now its founders are going full force to branch out from their humble beginnings in the back of a bar by opening a number of brick and mortar locations and operating a food truck.
Owners Don "Doop" Duprie and Sam Wood's first permanent space was unveiled over Memorial Day weekend in Wyandotte. The duo tells us they are now working to launch a second location (hopefully within the 60 days) on the ground level of the newly renovated Strathmore apartments on Alexandrine off Woodward.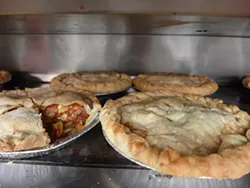 During a popup event at St. CeCe's Pub, Wood informed us that also in the works is the refurbishing a food truck so they can take their pie selling on the road. The mobile venture could roll out by the end of summer, Wood tells us.
Duprie and Wood started out by serving their sweet and savory creations in the back of Third Street bar. Having that space meant they had access to a full-service kitchen, while they made plans to open their own permanent shop.
Now the team has a commissary kitchen in River Rouge, where they can efficiently prepare the pies and distribute them to their growing number of outlets.
If you haven't yet had the pleasure of trying out these tasty pastries, you're missing out. Until you can get yourself to Wyandotte or eventually Midtown,
click here to check out our glowing 2014 review.
The Wyandotte location is at 2909 Biddle Ave. and is open 11 a.m.-10 p.m. Monday-Saturday, 11 a.m.-9 p.m. Sunday.