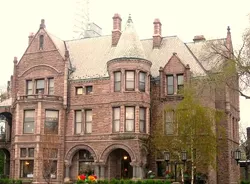 Cuisine 670 Lothrop Rd.; 313-872-5110;cuisine-detroit.com; $$$: In the shadow of the Fisher Building, Cuisine attracts a bustling theater crowd. Inside a 1920s house is a simple but elegant space. Ambitious French-American cuisine is creative, sophisticated and memorable.
Harmonie Garden 4704 Third St.; 313-638-2345; SS: Low prices, huge servings, a Wayne State location, top-notch falafel, all courtesy of Wayne State grad and owner Taher Jaber. A great value: quality, quantity, price and friendly service.
Majestic Café 4140 Woodward Ave.; 313-833-9700; majesticdetroit.com/majestic-cafe; $$: Majestic Café's menu takes its inspiration from all over the map. Entrées are large — and there's a shared plate charge of $2. The café is only one aspect of the Majestic entertainment complex, which offers music, bowling, a pizzeria and more.
Seva Detroit 66 E. Forest Ave.; 313-974-6661; sevarestaurant.com; $$: Detroit outpost of the fabled Ann Arbor eatery that pioneered vegetarian and vegan food. Menu choices are perhaps more accessible to those new to veggie dining, including mac and cheese, yam fries, veggie Reuben and more. Our fave: the General Tao's Cauliflower — pure heaven!
Union Street 4145 Woodward Ave.; 313-831-3965; unionstreetdetroit.com; $$: Art Deco decor, eclectic crowd. Menu ranges from chicken wings to homemade pastas to filet mignon. More than 100 beers, excellent wine list.
The Whitney 4421 Woodward Ave.; 313-832-5700; thewhitney.com; $$$$: With its 52 rooms, 10 bathrooms and 20 fireplaces, the three-story pink granite edifice, built for a lumber baron in 1894, has been one of Detroit's most celebrated restaurants since 1986.
Woodbridge Pub 5169 Trumbull St.; 313-833-2701; $$: Open from 11 a.m. - 2 a.m. every day, serving inventive burgers including a half-pound certified Angus and a vegan black bean patty. Hip setting, friendly service.
See any inaccuracies? Let us know! Send an email to [email protected] or call 313-202-8043.
$=$5-$10; $$=$10-$25; $$$=$25-$50; $$$$=$50+