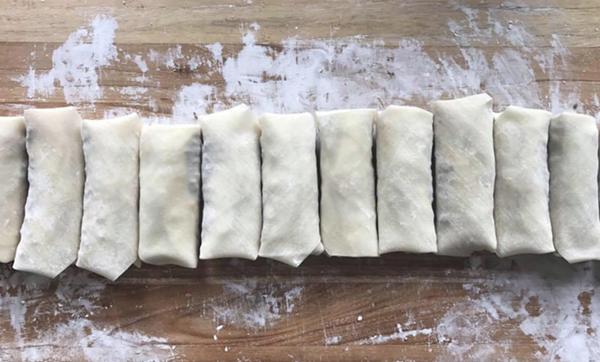 As we first learned with the increasingly ubiquitous
Asian corned beef roll
, the egg roll concept is one that can be taken a lot of delicious directions.
Maritza Garibay is exploring some of those possibilities in her recently-conceived Crispy Roll pop up, which has been rolling out of Hamtramck's Painted Lady for several months.
The product is even better than it sounds. The idea of deep frying mac and cheese in an egg roll shell is wonderful on paper, for example, but Garibay's homemade chipotle mac and cheese is a fun twist and positively tasty.
All the rolls' contents are made from scratch, each item is fried to order, and each arrives with a housemade sauce, which is more than just a dollop of ranch or a small cup of soy sauce. Try the crispy sauce, which is soy-based with fresh garlic, ginger, and scallion that's mixed in with chili paste, mirin, rice vinegar, lime, molasses, "and like 10 other ingredients."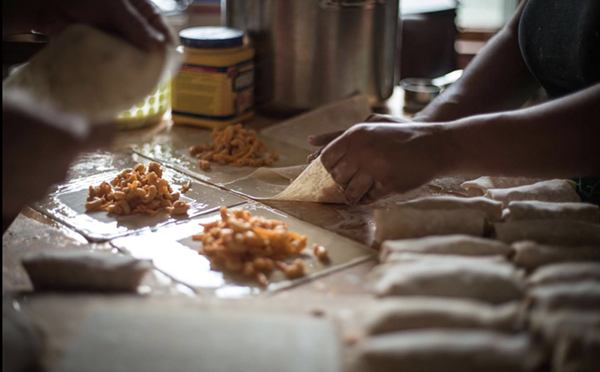 On Thursday, Garibay will present her most complete menu to date with dinner at P.J.'s Lager House. Sides like miso-mushroom soup and
ensalada de n0palitos
(Mexican cactus salad) will accompany the rolls.
The event runs from 5 p.m. to midnight, and Crispy Roll returns to the Painted Lady the following Wednesday.
Thursday's menu:
Two rolls and a side $9
Extra roll $3
Side of chips and aioli $3
Cheeseburger roll (beef, cheddar, pickle, onion)
Served w/hand-cut chips and burger sauce
Buffalo chicken roll (shredded buffalo chicken, mozzarella)
Served w/celery salad and ranch
Chipotle mac roll (vegetarian) (elbow macaroni, chipotle cheddar sauce)
Served w/tomato bisque
Mexi-roll (vegetarian) (soy chorizo, potato, cheddar, onion)
Served w/
ensalada de nopalitos
(cactus salad, cilantro lime crema traditional)
Traditional crispy roll (vegan) served with crispy sauce
Served w/miso mushroom soup
Dessert $6
Cherry cheesecake roll
Cherry compote (creamy cheesecake, graham crust fresh whipped cream and powdered sugar)
Chocolate lava roll (Nutella-filled brownie)