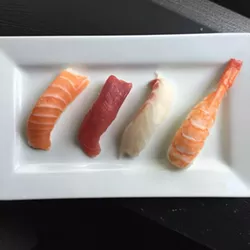 When chef Aaron Solley took the helm at Craft Work earlier this year he promised changes were afoot for the menu. Indeed, he overhauled the daily offerings and vowed to use fresh, locally sourced ingredients whenever possible.
He's kept that promise and starting earlier this week the West Village eatery now includes a full-scale raw bar, featuring Michigan shrimp ceviche, beef tataki, crudo, soup of the moment and other uncooked fare.
Guests can choose to sit at the long bar, located in the dining table area of the restaurant, or place their orders with a server.
As the new raw bar takes priority as part of the dinner service, Sunday brunch is being cut from the spot's offerings.
Craft Work is at 8047 Agnes.