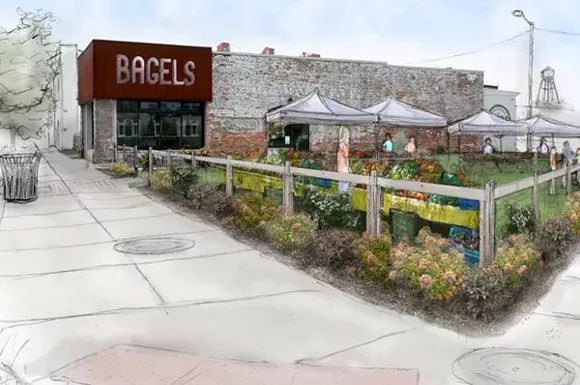 Update: After months of planning (on their part) and waiting (on our part), organizers of the new Corktown Farmers Market will officially open next week.
The inaugural pop-up will take place in the Michigan Avenue strip between Lodge Service Drive and the Detroit Institute of Bagels, featuring vendors such as Detroit Food Academy, The Blu Kitchen, ACRE, and a handful of others.
This event takes place from 4 - 7 p.m.
Head to the
farmers market website
for a complete list of vendors and additional information.
Originally posted: February 10, 2015 at 5:28 p.m.
A new farmers market will soon crop up in the strip of land along Michigan Avenue between the Lodge Service Drive and the Detroit Institute of Bagels in Detroit's Corktown neighborhood.
The idea behind the market is, of course, to encourage local commerce and to make fresh, Detroit-made products more readily available to folks on the go.
Project organizer Greg Willerer told
Model Media
that Corktown was prime farmers market real estate: "Local farmers and new food businesses both need a busy location. After 3 p.m., Michigan Avenue is busy with folks going home by bus, bike, and cars. It's just busy in general since Corktown is densely populated," he said.
"We want farmers markets to be more accessible than a grocery store; people can park and get on their way home. Since this is at night, the Corktown Farmers can also be a place where you eat outside on a picnic table, see your friends and neighbors, and try some new things grown a mile away," Willerer said.
That's right, the Corktown will be open later than your run-of-the-mill pop-up with anticipated hours scheduled every Thursday from 3 - 7 p.m. from May through October.
What's more, organizers have hopes of also using the space as an entertainment venue where for concerts and other live performances.
As for vendors? Many are still in the early stages of signing up for booths, though Love's Custard Pie, Grown In Detroit, and Friends Potato Chips have all expressed interest.