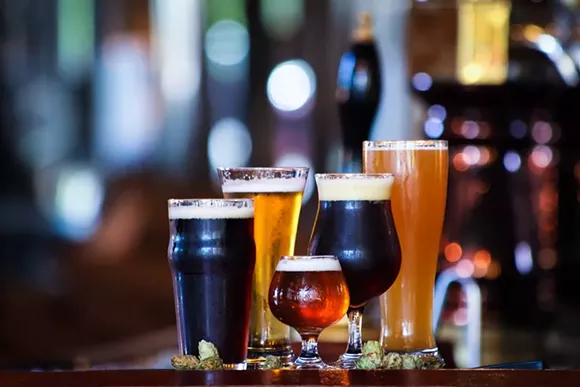 Sometimes listening to the rumor mill pays off. Yesterday, we reported whisperings that HopCat would be coming to downtown Royal Oak.
Today, parent company BarFly Ventures LLC confirmed reports and said we should expect it to open early next year, pending liquor license transfer, etc.
The chain beer bar and restaurant will invest $3.5 million to renovate the 11,700-square-foot, multi-level Woody's and Onyx steakhouse at 208 W. Fifth St. The first floor will feature 130 tapes, the second floor another 30, and the rooftop will be transformed into a beer garden.
In addition to "crack fries," burgers, and other bar fare, the Royal Oak location will offer
Detroit-style square pizza
on the menu.
Says Barfly Ventures CEO in a written statement: "Royal Oak is a city with a lot of soul – from cool shops, restaurants and nightlife, to its great neighborhoods. I don't like cookie-cutter places, so those who have visited HopCat – Detroit or another location will find a different vibe in Royal Oak."
In the meantime, workers for the outgoing bar and restaurant will be out of jobs early next month. In the same announcement Woody's/Onyx owner says his employees will have first grabs at jobs when HopCat arrives.
The chain expects to hire more than 130 hourly employees beginning early next year, while the management team is currently being assembled.
The Royal Oak location marks the 13th HopCat since its first Grand Rapids spot opened in 2008. Most recently, a Chicago outlet launched Sept. 3. Kalamazoo will get one Oct. 8 and Kansas City will also arrive in early 2017.