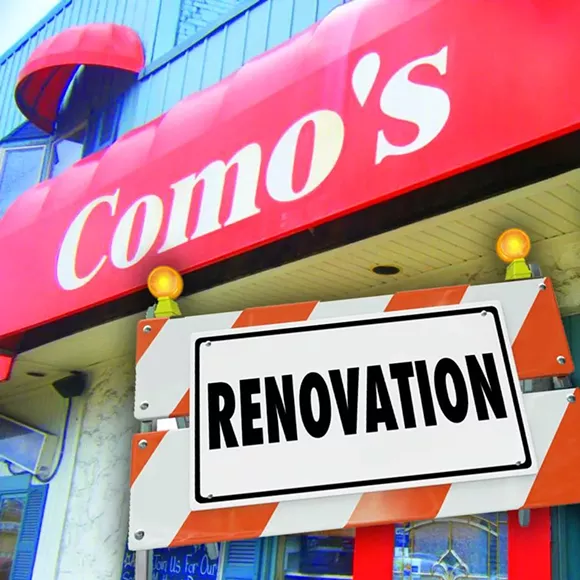 Fans of Ferndale pizzeria and bar Como's will have to find a new spot to hang out for the time being.
WXYZ
reports
that the Oakland County Health Division has shut the place down this week due to its inability to maintain a clean environment.
The TV station says the health department recommended to the food service appeal board to close Como's. The popular spot will remain closed until health officials deem it's OK to reopen.
Eater Detroit
painted
a rosy outlook about the closure, citing a Como's Facebook post that reads: "Como's is getting a facelift! We will be closed for a few weeks to create a better dining experience for our guests. This major renovation includes a massive upgrade to the kitchen and dining room! We look forward to sharing our remodeled space with you. Tune into this page for updates on the remodel!"
The post goes on with 19 hashtags including #openlate, #cocktails #Italianfood, etc. (somehow missing: #healthcodeviolation).
We reached out to Como's for comment, but the restaurant's phone rang unanswered.
A more thorough accounting of the problems at Como's can be found in the
Daily Tribune.
Health and Human Services director George Miller told the publication that the health division had been having issues with Como's for awhile. Violations include: problems with personal hygiene of workers, cross-contamination of food, missing date markings on food expiration dates, failing to cool foods down for storage, and leaving food out for too long.
"This issue has been continuing and festering for the past few years," he told the
Trib
. "We needed to get their attention and their license has been revoked. Like any restaurant that may struggle a bit, we expect them to get themselves back on track and reopen."
The closure is just the latest in a string of problems plaguing Como's.
The Michigan Liquor Control Commission records show that in 2015, the establishment's liquor license was yanked for 60 days failing to pay fines. The longtime eatery and bar had previously been dinged a number of times for selling booze to minors.
We've put in calls to both Miller's office and to Como's and will provide more details if and when they become available.