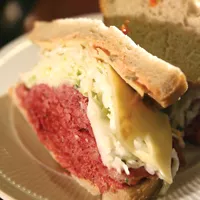 There are way, way, way too many choices at the Stage Deli for a reviewer to do justice to them all. Proprietor Steve Goldberg has added everything but his bubbe's kitchen sink to the menu — from salmon teriyaki to Cajun-blackened chicken to English-style fish and chips. There are 92 sandwiches and burgers, for pity's sake, not to mention 45 breakfast choices, before you even get into the Thai stir-fry and the Italian meatballs. No wonder Goldberg takes pains to call his West Bloomfield place a "Full Service Restaurant," lest diners worry that they'll be limited to corned beef and pastrami.
So I decided to stick with the traditional Jewish-American foods that were the deli's stock in trade 46 years ago, when Steve's dad first opened it in Oak Park. That's more fun, anyway, than ordering a fettuccine Alfredo or a bacon cheddar burger that you can get anywhere. (And note that Goldberg doesn't shy away from trayf.)
The menu boasts that recipes for chopped liver, gefilte fish and meat loaf were created by Steve's bubbe (grandmother). Some of these time-honored dishes may be most enjoyed by those with warm childhood associations.
"Chicken in a pot," for example, is a frequently ordered dish, according to a manager, but I found it bland and disappointing. It's a soft-skinned chicken quarter in an OK dark broth, with one kreplach (an egg pastry filled with ground brisket) and a baseball-sized matzo ball, and not much else. Every culture has its bland comfort foods, but a spongy matzo is bland without even a pleasing texture to redeem it.
Let me wax poetic, however, about my own mother's chicken and dumplings, and it's blindingly clear the weighty role that heritage plays in our food preferences. "Basically, what we serve is comfort food," says Goldberg. "Is it as good as Mom's or Grandma's? Probably not. But you don't have to wash the dishes."
Cabbage borsht, a lovely mahogany color, was also lacking; we ordered the diet version because the server said it was less sweet than the regular, but it was very sweet. The regular adds raisins and more sugar.
Much better was a corned beef sandwich piled very high: the beef lean and red, the cole slaw crisp. The Stage has been loyal since its founding to Kelly Corned Beef in Chicago, which cures the beef to order and uses smaller briskets that, Goldberg says, make the meat more tender and flavorful.
Potato latkes, deep-fried in vegetable oil, had crisp exteriors and melt-in-your-mouth interiors that bespoke the essence of potato. The best way to eat these is to make sure you get both applesauce and sour cream in each bite.
If you want to know how salt-cured salmon from the Pacific became associated with Eastern European Jewish immigrants on the Lower East Side of New York, see Erika Kinetz's fascinating article in The New York Times from five years ago. The Lower East Side is where the bagel-lox-and-a-schmeer combo was invented. "Lox" is technically the salt-cured stuff, but most folks these days prefer their fish smoked, with a lighter flavor, and that's what the Stage serves most of: salmon, sable and whitefish. If you want the saltier version, order "belly lox"; the waiters have been trained to guide you through the terminology.
Everyone knows how delectable these delicacies are, so I won't take the space to rave. I took along a friend whose grandmother had owned a Jewish deli in Vienna. She says that one of the best things about sitting shiva is the smoked fish platters that are often offered to the mourners. The Stage serves them the right way, with cream cheese, red onion, sliced tomato and an egg bagel.
What else? I ate chopped liver — not just chopped but blended to a fine paste. You have to be in the mood, but this homespun treat, made fresh every day with onions and hard-boiled eggs, doesn't deserve its "what am I?" reputation. (Speaking of which, my friend once ran into Jackie Mason dining at the Stage, which ought to speak for its bona fides.)
Cheese blintzes are quite sweet, and served with sour cream and a blueberry compote that adds nothing. A tastier dessert is rugalach — cookies made in Brooklyn with buttery dough and filled with nuts and raspberries, chocolate chips or apricots. They reminded me of Christmas cookies! (The Judeo-Christian tradition, perhaps?)
Some old institutions appear in the beverage department, with cream soda and chocolate phosphates available (no egg creams, alas). I like the tingle of a phosphate, which mixes chocolate syrup and seltzer (and, in the old days, a splash of phosphoric acid).
Some of the Deli's prices are high. To pay $9.45 for three cheese blintzes, $5.95 for oatmeal, or $12 for a tuna platter "straight from the tin," you've got to ignore the cost of the raw materials and appreciate the love.
The West Bloomfield Stage Deli is open daily. There's a second location in Somerset Mall's food court, with a menu an eighth the size of the original's, concentrating on salads and sandwiches.
Jane Slaughter dines for Metro Times. Send comments to [email protected].