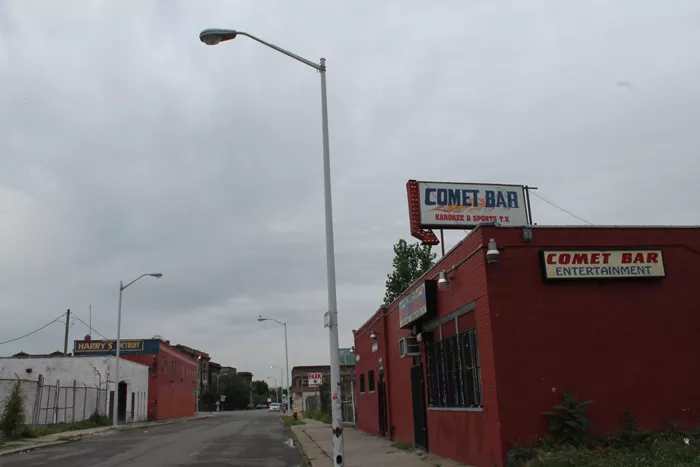 Situated along a stretch of Henry Street that includes the so-called "murder mart" and the former 2500 Club, behind a door that sits askew the street, Comet Bar has always been a welcoming, simple dive bar in town. Owned by native Detroiter Wayne Alexander, Comet features hefty pours of whiskey, a typically calm environment to watch a Detroit Tigers game, and the much-appreciated weekly "Terry-okie." And there's not much to the place; imagine what "a bar" looks like, and it's almost certain you'll picture the Comet's interior: Plain long tables, fold-down chairs, dark lighting, a few TVs, and a small stage where a number of patrons have likely belted "Purple Rain" one too many times. For a while, its kitchen served as the home of Dangerously Delicious Pies, which made the air smell a little sweeter than the regulars were accustomed to.
But that's what's always made this tiny establishment stand out from the rest. There's no shtick. It's a neighborhood bar that offers patrons a place to just sit back, relax, and, if they choose, converse with some fellow travelers in life. Out back, during the summer, a small tiki bar opens up to serve a back yard unlike many you could find in and around Detroit. In fact, Comet, with all its quirks, sits within a stone's throw of Comerica Park and the Fox Theatre. That alone should pique the interest of some out-of-towners leaving a late-night ballgame who want to continue their night nearby.
But, with the announcement of a new Detroit Red Wings arena, located just north of I-75 along Woodward Avenue, it appears that Comet's days are numbered. The bar's location actually sits in the footprint of the proposed site of the new arena.
Last time we spoke with Alexander, he said the fate of his establishment, which he's owned since 2008, was entirely unclear. But with Red Wings owner Mile Ilitch looking to move from the team's current home, Joe Louis Arena, by the 2016-2017 National Hockey League season, we'd suggest it's probably best to drop on by within the coming weeks. Better now to enjoy the cheap drinks this Cass Corridor watering hole slings than wait for the $8 Budweiser drafts likely to be sold at Unnamed Hockey Arena.