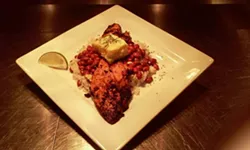 Thursday marked the first day of Dine Drink Detroit in which nearly 30 of the city's restaurants got a chance to showcase their culinary prowess for curious Detroit foodies. Among those serving special dinner menus for the 10-day event was COLORS-Detroit, the non-profit establishment created in 2012 to serve as a training outlet for workers of color who've experienced difficulty landing coveted front-of-the-house jobs.
COLORS used the restaurant event to kick off dinner service, thus expanding from a lunch-only format. During a ticketed preview event Sept. 29, COLORS' general manager informed guests that the restaurant would expand to include dinner service Thursday, Friday and Saturday. Situated on Grand River, around the corner from Harmonie Park in downtown's theater district, the establishment is well poised to serve as a gathering place before or after a night at the opera. Added bonus, opening for the evening will provide staffers - who in reality are doing on-the-job training so they can prepare for careers in the restaurant industry - get much-needed experience working the busier evening shift.
The restaurant is considered a social enterprise of the Restaurant Opportunities Center of Michigan, a local affiliate that sprang out of the national group started in New York. Known as ROC United, the organization was originally formed to assist restaurant workers displaced after 9/11. The movement grew to serve as an advocacy group for those in the service industry, taking on causes like fighting for lost wages and tips and providing intensive training for the chronically unemployed and those living in poverty to find work in fine dining establishments. During the training, COLORS students work in all facets of the restaurant, as bartenders, servers and in the kitchen.
Though dinner service is limited (at least for the time being) to three nights a week, we're excited to see how this venture pans out, not only for the food, but also for the workers. While Detroit's dining scene is regularly being lauded as the newest it place on the culinary map, one major part of the conversation is regularly missing: diversity in restaurants.
ROC-Michigan released a damning report last year saying that people of color are only 75 percent as likely to receive a job offer as a white applicant.
While the study focused on both the city proper and the 'burbs, the fact remains that blacks, Latinos and other minorities here and elsewhere in the country are far too often relegated to lower-paying, back-of-the-house jobs like washing dishes or busing tables. If programs like the one offered at COLORS-Detroit can help bridge that disparity, more power to them.
UPDATE: Metro Times incorrectly identified COLORS' general manager in a previous version of this story. The current general manager is Jim Pawlicki.