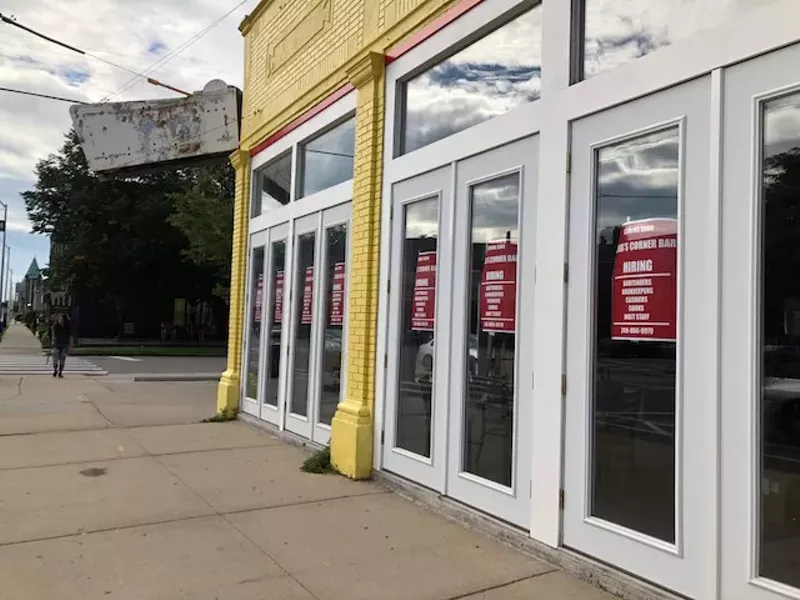 A memory of "Old Detroit" will now have a place in the "New Detroit" as Cobb's Corner Bar plots its comeback.
Recently, hiring signs appeared in the space at the corner of Willis Street and Cass Avenue, which has been under-utilized since the closure of Spiral Collective.
When it opens this fall, the new Cobb's Corner Bar will be "just what it was before," owner Richard Cobbs tells
Metro Times
— a space for art, music, and political activism.
Cobb says he
originally opened the bar in 1970, and the spot became known as "the new jazz corner of the world." It regularly hosted Detroit musicians like Marcus Belgrave, Harold McKinney, Allan Barnes, and many more during its tenure. "When we opened this place [in 1970], Cobb's was a destination, you had to be coming here." Cobb says. "There was nothing else around, and it was dangerous in 1970, and got worse."
Indeed, tragedy struck on Jan. 27, 1979 when one of Cobb's successors, Henry Normile, was gunned down in the hallway of his apartment adjacent to the bar. The jazz club and arts space held down the corridor until the early 1980s, then eventually closed its doors.
Needless to say, the neighborhood has changed substantially since that time, which is part of what drew Cobb back to the corner.
"I am extremely pleased. I would have to say almost ecstatic with what is going in Detroit." Cobb says. "If you sit here for the next hour or so, it's amazing — the foot traffic — compared to what it used to be."
The intersection has become one of Cass Corridor's most bustling areas, and is home to quick bites like Avalon Bakery, Alley Taco, Royale with Cheese, and the soon to be open Spread Deli.
The new Cobb's Corner Bar will also flow into Willis Gallery and will feature paintings by Cass Corridor and Midtown artists. Cobb says it will offer a no-fuss draft selection with Stroh's, Bud Light, Heineken, and Pabst for a very affordable price.
On the food menu, Cobb couldn't provide much detail. He says it will be similar to another restaurant establishment that he owns in Key West called Harper Harry's, which he describes simply as "...we're a
diner
with liquor."
So many restaurants, so little time. Sign up for our weekly food newsletter delivered every Friday morning for the latest Detroit dining news.