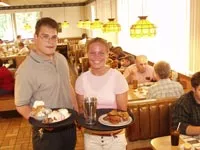 I thought of the Guernsey Farms Dairy Family Restaurant as a quintessential American experience, so I was delighted to take Ana Grbec, an exchange student from Slovenia who is staying with us this month, to dinner there. It is
the
place to get an ice cream cone in Northville, and they serve such American classics as meat loaf and fried chicken.
I told Ana that I thought the milk at Guernsey Farms was extraordinary. She thought it compared favorably to Italian milk (her home is a five-minute walk from the Italian border), but was not as good as Slovenian milk, which is more expensive.
I asked our server why the milk tasted so good. She replied brightly, "We make it right here!"
"The cows make the milk," conceded John McGuire, manager of the restaurant and grandson of one of the dairy's early owners. "But we process it. We stick to the federal guidelines. If you follow the guidelines, you tend not to burn the milk, which gives it an off flavor." The dairy buys its milk from a Michigan farm co-op.
I told McGuire that a friend of mine had waxed eloquently about the Guernsey Farms Dairy's buttermilk. That didn't surprise McGuire. The buttermilk, he explained, contains all the original fat from the milk, which is then cultured in a process similar to making yogurt.
Ana tells me that in Slovenia, which declared its independence from the former Yugoslavia in 1991, they buy milk in one-liter boxes, and I asked McGuire why boxed milk never caught on with Americans. He politely explained that the milk processed at Guernsey Farms is done within a day so it can be as fresh as possible. Boxed milk is ultrapasturized, which gives it a long shelf life, but also affects the flavor.
You can go to Guernsey Farms just for an ice cream cone, or to buy dairy products from a little convenience store, or you can go for a meal. It's not a cutesy place, with its Formica tabletops, paper place mats full of advertising ("Look, they are advertising religion," said Ana in amazement), and well-scrubbed college kids as wait staff. Ice cream-only customers form a long, but briskly moving, line. Then they gather outdoors under a burl oak tree that is more than a hundred years old. Boulders that circle the tree provide seating.
In the restaurant, broasted chicken is the special. The chicken is marinated for 14 hours, dusted with a coating, then deep-fried. It's $8.30 for a half-chicken dinner, which comes with a tasty coleslaw and potato, as well as a scoop of ice cream.
Also worth trying is the meat loaf ($6.30) or a broasted pork chop ($8.30 for one, $13.40 for 2).
Appetizers are all of the fried variety, predictably poppers, onion rings, chicken tenders or mozzarella sticks. There are also sandwiches and burgers; they're nothing special, but no matter because you're saving room for dessert, right?
Ana had a Black and White sundae ($3.90), a combination of chocolate and vanilla ice cream with marshmallow and hot fudge, sprinkled with nuts, piled with whipped cream, and a cherry. Wow! One of two American teens with us had a Tin Roof Sundae, similar to Ana's but with Spanish peanuts. Nina had a bowl of ice cream that was called Peanut Butter Iditarod. Ana explained the Iditarod, and Nina asked, "What does that have to do with ice cream?" We couldn't answer the question.
Butter pecan is the Guernsey Farms Dairy's biggest seller, aside from vanilla, and it is wonderful. Many metro area supermarkets and party stores sell Guernsey Farms Dairy products.
Elissa Karg dines for Metro Times. E-mail [email protected].