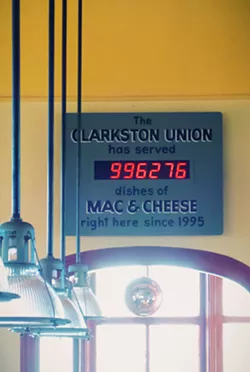 The countdown is on at comfort food hub Clarkston Union to dish out the one millionth serving of its famous Most Macked Mac n' Cheese. In fact, the eatery has set up a digital counter to keep track of this momentous milestone.
A little background: Clarkston Union got its start in 1995 when founders Curt Catallo and Ann Stevenson renovated a dilapidated former church into the restaurant and bar. It's since become known for its macaroni and cheese (it sells an average of 166 servings each day), and Catallo and Stevenson have opened seven other restaurant concepts throughout metro Detroit.
Under the Union Joints group, the husband and wife team also plan to launch two other spots, one in
Oak Park (tentatively known at 8MK)
and another in Detroit to be called Brewster Wheeler.
Clarkston Union expects to reach its millionth mac sale during the third or fourth week of March. No word yet on whether Clarkston Union has any special plans in celebration of the milestone, but be sure, if you happen to be the lucky customer you're in for some serious bragging rights.