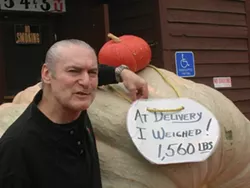 From the 1,560-pound pumpkin on display to bins of apples, pies and sausages and cheeses, the rustic appearance of historic Franklin Cider Mill belies the modern equipment and stainless steel used in the cider- and doughnut-making processes. Owner Barry Peltz is a man who loves what he does. He prides himself on the results.
Metro Times: It seems as if this mill has been here forever.
Barry Peltz: The mill has been in the family for 48 years. It was originally a grist mill, grinding flour for local farmers who then picked it up with their horses and wagons. When the land got valuable, the wheat farmers sold out to apple farmers, and the mill was converted to make cider. The wife of one of the former owners had a recipe for German fried cakes, which are now the doughnuts that we sell. It's a proprietary recipe that is held in a lockbox at the Comerica bank down the street. Most other doughnuts are made with cake flour. Ours are made with durum wheat flour. We can't keep up with the demand on weekends. We only sell them hot. Sometimes you have to wait to eat them. Don't close the bag, or they'll lose their crispness. We also have what we call a cider dog, an all-beef hot dog that is marinated in cider and grilled.
When my dad bought the mill, there was a press from Germany that had been shipped over in 1869. It's one of the largest presses, if not the largest, in the United States. The old press boards were wooden slats that, due to health department regulations, have been replaced with plastic boards that we developed. They're now being used by mills all over the country. We press seven layers of ground apples — each with about 12 bushels per layer — at a time. In the grinding of the apples, it's all in the mix. We start out the season with a mix of six or seven varieties. Later in the season we get about 17 or 20. The best cider is made from a mix of apples. And in the last five or six years, we have started using Honeycrisp apples. It's a cross between several different apples.
MT: Are they more expensive?
Peltz: They are, because of the growing conditions. You only get about 70 percent yield, whereas if you grow Delicious apples, red or golden, Apollo reds, Empires, Galas or other apples, you get about 90 percent of a crop. Each load of our press has about 25 or 30 bushels of Honeycrisps. You can taste the difference. People taste it and they go, "Ooooh!" because they haven't tasted that kind of cider. Most cider mills have to pasteurize their cider because of the quality of their apples. They buy a lot of apples that have dropped, that is, fallen on the ground. We only buy apples that have been hand-picked. Our cider is not pasteurized. Pasteurization gives the product a better shelf life, but we turn ours over within 24 hours from the time it is pressed, usually the same day. It'll last two to three weeks. If it tastes good and it's not fizzy and the container hasn't swollen, it's fine to drink.
MT: Can cider be frozen?
Peltz: It can be frozen, but remember to take it down two or three inches to allow it to expand. I have cider that goes back to 1978, 1988. When I have company, it's kinda cool to be drinking cider from 20 years ago.
MT: Why would you keep it that long?
Peltz: You can't produce it today because the apples have changed. It's like driving a 1988 car in the Woodward Dream Cruise. Imagine a "cider cruise." It's like drinking a vintage wine. We had a lady that came in here the other day looking for organic cider, which would be a tree that wasn't sprayed. If a tree wasn't sprayed, I guarantee you that it would most likely be bug-infested. Imagine going camping without bug spray on you; a mosquito's gonna come and bite you. The first operation here is putting 20 bushels on a platform, where they are sprayed with a hydrogen peroxide solution that the health department recommended we use. Then they're washed with a high-pressure spray that removes the solution and any other possible contamination. From beginning to the pressing, the apples are continually being washed.
MT: This seems like the ideal job. You work four or five months a year and have the rest of the year off.
Peltz: Yeah, I have the rest of the year off — but I'm still doing apples! I drive all over Michigan and stop in at every farm. Our apples are from all over Michigan.

Franklin Cider Mill is at 7450 Franklin Rd., Bloomfield Hills; 248-626-2968; franklincidermill.com.
Jeff Broder interviews food folks for Metro Times. Send comments to [email protected].