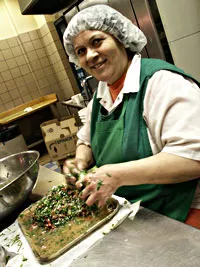 If you don't mind eating with a plastic fork, you'll find some exceptional and unusual Lebanese dishes at the New Yasmeen Bakery in Dearborn. Co-owner Hussain Siblini says that's because he employs old ladies who make traditional, really old, old handmade dishes.
The New Yasmeen (it means "jasmine") is new because the three Siblini brothers named it for their previous business in Lebanon.
As much a deli as a bakery, it's crowded with Ford and Chrysler employees at lunch, but was virtually empty when I went by for supper.
When it comes to Middle Eastern food, many think they've been there, eaten that, because most restaurants seem to serve basically the same menu. At New Yasmeen, however, you'll find something new next to the chicken shwarma and shish tawook.
It's a big, airy place, all windows, with some lovely tile hangings and tiled tables in the dining area.
As you enter, the first area you'll see is the bakery counter. I counted at least 30 kinds of Lebanese sweets, including the usual baklava and bird's nests, plus a large assortment of gorgeous Western-style treats. Siblini says that's because of the French colonial influence in Lebanon.
New Yasmeen's pastry chef – everything is made on the premises – is doing some amazing shape-changing things with chocolate. We pointed to a faithful reproduction of a teacup of hot cocoa, complete with whipped cream on top – and a butterfly for good measure. The cup was made of dark chocolate, with chocolate mousse and vanilla mousse inside, and a few blueberries at the bottom of the cup. I thought these would be perfect for a small girl's birthday party, at $3 apiece. (It was delicious, too.)
Behind the counter is the pita oven, where you can watch the big cushion-shaped loaves emerging on a conveyor belt, slowly deflating as they trundle toward the packaging room.
At the deli counter, with hot and cold dishes by the pound, I saw many combinations I hadn't seen before, and I still don't know all their names. I strongly recommend the following from the hot side: Chickpeas-yogurt-pine nuts, tangy and nutty; and spinach-lamb-pine nuts, also tangy, and with the spinach taste pretty well disguised.
One good cold dish is an artichoke salad with lemon and oregano. Thyme salad, shoumar (dill and cracked wheat), hendbe (dandelion greens boiled and cooked with olive oil and onions), and seven kinds of Lebanese or Greek olives are other possibilities.
Certain dishes on the cold side were ones I'd always seen served warm, such as mjadra. I took a new one home, the vegetarian eggplant-chickpeas, and warmed it up. It was great.
The grape leaves stuffed with rice and tomato are more flavorful than the usual, as are the kibbee and the hummus – more chickpea flavor. And the baba ghanoush is a smoky delight.
When it came to the usual meat dishes, which are cooked to your order, one night we found the skewered creations perfectly good but not different from other restaurants. Another night they were far outshone by the side dishes.
Although the food at New Yasmeen is mostly wonderful, the bright lights and plastic cutlery make it hard to feel you're really making a dining-out occasion of it. From the diner's perspective, the solution would be for other restaurants, more oriented toward the sit-down evening customer, to start serving some of these same new-old dishes. Or you could make New Yasmeen your caterer, and bring it all home.