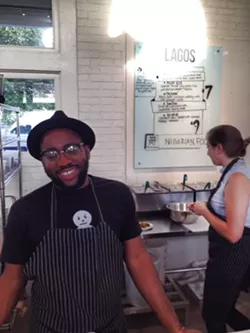 Chef Tunde Wey helped elevate the concept of the pop-up dinner party in Detroit when he helped found Revolver in Hamtramck in 2013. He also introduced many Detroiters to Nigerian food, with his Lagos BBQ. The idea - to bring together strangers and expose them to new and interesting cuisine prepared by a rotating roster of chefs (including himself) - caught on quickly and before long, we were seeing the concept appear in venues both glamorous and industrial.
Wey has since relocated to New Orleans, where he continues to showcase Lagos. And now his pop-up gatherings are evolving to ignite discussions not just about food, but about a topic that has become of particular relevance as of late: blackness in America.
The Nigerian-born chef will first roll out his dinner series this month in NOLA. There, he has secured several guests who will help get the conversation started, including filmmaker Zac Manuel, educator Rashida Govan, Contemporary Arts Center director Neil Barclay, and urban faming advocate Jenga Mwendo.
Wey will bring the supper club to Detroit at 6 p.m. April 6 at the Urban Consulate, 4470 Second Ave. Speakers are still being confirmed.
The dining series idea came about for Wey as a means of providing what he calls a "black space," where black people can freely discuss issues of race, without feeling marginalized (which happens to speak to the core of the current Black Lives Matter movement). Though everyone is welcome, he notes that too often public areas are perceived as neutral, when in fact, they are "white spaces."
"This is a testament that it is possible to have spaces that push against dominant culture in every major way," Wey tells us.
While diners should expect a lively discussion, they can also look forward to Wey's signature family-style Nigerian cuisine, with a menu featuring whole grilled flounder, served with rice stewed in spicy tomato sauce, black bean coconut pudding, and deep fried dough with fruit. As for drinks, it's BYOB.
Tickets must be purchased in advance
(here)
and go for $45.
The supper club is one of many events organized by Knight Cities Challenge project,
Urban Consulate,
which is piloting urban parlors in Detroit, Philadelphia, and New Orleans.