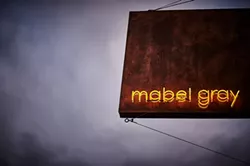 It's time this week for Chef James Rigato and his partner Ed Mamou to tighten up any loose ends at the pair's latest venture, Mabel Gray, which is set to open Sept. 29 in Hazel Park. The spot, the former Liza's Place at 23825 John R Road, is expected to expose more Metro Detroiters to his celebrated cuisine, which since he opened his first venture The Root in far-flung White Lake, has won over national recognition for its innovative use of sourcing as much as possible from his home state of Michigan.
Rigato held Mabel Gray's first soft opening on Sunday for his Root family. The new eatery will hold three more such events this week for friends, family and industry types to work out any kinks. While he told us a full-scale menu is ready to go, he didn't go into much detail, saying it's still fluid and he wants the restaurant to "have room enough to grow."
Rigato wants to capture the momentum he built in White Lake in the inner-ring, working-class 'burb. He's said that the community is ripe for young entrepreneurs, looking to get started, without having to spend a fortune. Already joining in on the potential is Cellarmen's microbrewery, a 12,000 square-foot space that formerly housed Bolyard Lumber. Cider makers Ian Radogost-Givens and Jason Petrocik have already started brewing a variety of mead, cider and beer.