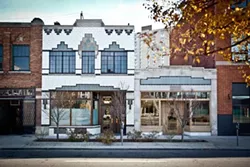 Antietam, that much-hailed restaurant in Eastern Market that also has been besieged by drama since it opened a little over a year ago, has said goodbye to its second chef, after co-executive chef Brion Wong wrapped up his last day in the kitchen on Saturday.
Taking over the helm is Wong's culinary partner, chef Jestin James Feggan. Wong, a New York native, was brought on board in November, just months after the spot's former chef, Brendon Edwards and bartender Joe Robinson abruptly departed only a few weeks after the restaurant opened to rave reviews last summer. Feggan declined our requests for comment on the switch.
Wong insists his exit was purely professional and that he had submitted a formal two-weeks notice. He tells us that he has always worked as an opener chef, in which he helps design the menu, get the kitchen staff in top form and make sure the back of the house is in good shape before he moves on to his next gig, rarely sticking around for longer than a year. "I'm the type of person who gets bored easily," he tells us.
Antietam assistant general manager Aleiya Lindsey tells us there are always rumors about drama at the restaurant, given its rocky start, but says that there's nothing to any whispers that the place may be under any sort of duress. In reality, she says, the place is gearing up to design its fall menu and is in the midst of planning a swanky, $200 per-person wine tasting and dinner party, featuring Vincent Thibaud from Alain Brumont. "The restaurant industry is a very fast moving industry, chefs leave all the time," she tells us. "People love restaurant drama, but that's not the case here."
Before his move to Detroit, Wong had worked under the likes of chef Alexandra Guarnaschelli at Butter in Midtown Manhattan. He says he plans to stick around the Motor City and that he's already been hit up by a bunch of people interested in booking him for popups. For now, he wants to spend more time with his pillow, recharge and then jump right back into the game.
Wong, like others who have been asked before him, would not say what it was like working with the eatery's owner, Gregory Holm
(we previously reported that restaurant workers have said he's difficult to work with).
Thing is, the restaurant community in this town is so small, it's nearly impossible to visit a place where you haven't seen the chef, bartender, food blogger or line cook working someplace else before or even working for multiple establishments at once. To open up about any sort of food fight, perceived or real, would burn bridges. From what we've seen and heard, the culinary scene is far more supportive than competitive in Detroit than elsewhere. Whatever happened at Antietam, this latest shift should be smoother than previously, as Feggan has worked right alongside with Wong.