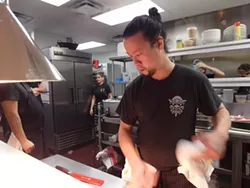 Chef Brion Wong has left The Peterboro for a new job in New York City.
The
Free Press
, which
first reported the news
, writes that Peterobro owner Dave Kwiatkowski confirmed the development.
"Brion and I had a very good meeting, and I said 'Godspeed, best of luck in your endeavors,' " Kwiatkowski tells the Freep. "He was graceful about it. Apparently, he's got a better job offer in New York. ... We definitely parted on really good terms."
Wong arrived in Detroit to help the kitchen at Antietam through a rocky start, leaving after less than a year. Kwiatkowski then tapped him to develop the Peterboro's concept and open the Chinese-American fusion restaurant.
Chef Joe Flores - who helped open Kwiatkowski's Wright & Co. and worked with Flowers of Vietnam and P.F. Chang's - will take over. Some menu items will remain, but Kwiatkowski says to expect a largely new menu to take shape in the coming weeks.
(
An earlier version of the story reported that the Peterboro's new chef is named Dan Flores. His name is Joe Flores. The story has been corrected.
)